ART ARCHIVES - SOUTH AFRICA
additional information in support of data presented on the PELMAMA web site on
The Johannesburg Art Scene from the 60's to the 90's
---
SELECTED ARTISTS FROM SOUTH AFRICA AND OVERSEAS
Please click on appropriate names hereunder for further details!
Note: Fat links - completed; thin links - incomplete, unlinked - details to follow - additional names will be added progressively!
___________________________
ABRAMOVITCH ALBRECHT AMEZ-DROZ
BAKKER Baldinelli BARRACLOUGH BATTISS BLOM BORBEREKI BOSCH BRADSHAW BUFFA Buys BYRD
Catherine CHAIT COHEN CONDULA CULLMAN CUNDALL ALLEN
davis DE CHAZAL DE HAAN de jong DEN HOUTING DESMOND Dumile
ELOFF FLEISCHER Michael fleischer Tessa Fradan
Greig heath HELMSTEDT HERZOG HEUNIS HLALELE
Jaholkowski Jaroszynska Jaroszynski Jensen JENSMA KAYE KLAR KUMALO
LACEY Laconte LADAN LAUBSCHER LAUBSER le sueur LEIBBRANDT
MACALA MALAN MBATHA MCLAREN Meintjes MENDES Miedzinski mphahlele MURRAY Mylchreest
NKOSI OERDER OWEN PAGI POTGIETER
RAPHAEL RECK RICHARDSON ROUX RUBIN
SACHS SCHIMMEL SCHWANECKE SCHWARZ SEAGE SEKETE SHAPSHAK SHER SITHOLE SPEARS stapley STERN Steyn
VAN ESSCHE VAN HEERDEN VAN LINGEN VON MALTITZ Vorster
wagner WATSON WILSON wise wittenberg-miller
---
VARIOUS SOLO AND GROUP SHOWS of artists from MOÇAMBIQUE held at GALLERY 101 and elsewhere
Maria ALICE Mealha Ruy Calçada BASTOS Jorge MEALHA Zeca MEALHA António QUADROS
"Mozambique" some of its artistic aspects" - Gallery 101 Johannesburg - 4th May, 1964 (10 artists) - opened by Dr. Pedro Pinto - press + images
"Artists of Moçambique" Exhibition at Pretoria Art Museum - 17th November to 12th December, 1965 (invitation) + (catalogue) + (exhibition views)
"Artists of Moçambique" Exhibition at Durban Art Gallery - 22nd February to 27th March, 1966 (cat. with 19 artists' biographies)
---
Various Group Shows held at Gallery 101
"First National Graphic Week" - Gallery 101 - 18th June, 1962 - opened by Esmé Berman
"Art and Religion" - The Gallery 101-U.A.T. 1962 Scholarship - 15 pp 1.64 MB
"Arbeid-Work" - The Gallery 101-U.A.T. 1963 Competition - 12 pp 1.27 MB
"Portugal" - First South African Exhibition by 28 Contemporary Graphic Artists from Portugal - 4th - 15th November, 1963
"Top South African Artists" - Gallery 101 Johannesburg - Launching of new gallery extensions on 10th February, 1969
Second Exhibition of Transvaal Sculptors - Gallery 101 Hollard Street Johannesburg - 17th February, 1972
---
VARIOUS SOLO AND GROUP SHOWS ABROAD ORGANISED BY GALLERY 101
William Bloom Gallery, Bay Shore L.I., N.Y., U.S.A. - 4th July, 1964 - invitation card and controversy (opener Willem de Kooning's reaction!)
Gallery Montenapoleone, Milano 1964 - Ernst de Jong (February, 1964) - Otto Klar abstracts (1st October, 1964) - Zoltan Borbereki (November, 1964)
Canadian Touring Exhibition "Woven Tapestries from Rorke's Drift South Africa" (December 1968 - November 1969) organised in collaboration with Gallery 101, Johannesburg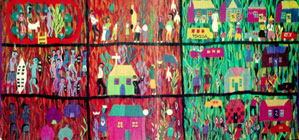 Please click on image for details!
---
VARIOUS GROUP SHOWS HELD BY GALLERY 21
Contemporary South African Masters Past & Future - Gallery 21 Johannesburg - 27th January to 21st February, 1987 (invitation / catalogue)
---
VARIOUS SHOWS BY OVERSEAS ARTISTS PRESENTED BY GALLERY 101 and GALLERY 21 IN JOHANNESBURG
Walter Piacesî - 1972
Simo HANNULA - 1975
---
Additional searchable information suitable for general research:
OUR ART 1, 2, 3 and 4 - list of illustrated essays on South African artists
LANTERN - list of illustrated essays on South African artists
ARTLOOK – JOHANNESBURG - Issue 1-104
(ARTLOOK - a searchable Index to South African art and selected artists only – Analysis for quick reference)
DE ARTE - UNISA - Analysis of SA art related entries in Pilot Issue 1965 and editions No. 1, 4-14 to September, 1973 only
To view index for DE ARTE issues 63 to 87 click on this link!
SAAA - ARTS CALENDAR - 1967-1993 - Analysis of Selected Issues, according to images only
"NEWS/CHECK on South Africa and Africa" (edited by Otto Krause)
Analysis of SA art related entries in all issues 1962 and 1963 - Vol. 1 No. 1-26
"Die Akademiekunsversameling" - Die Suid-Afrikaanse Akademie vir Wetenskap en Kuns (1992) - ISBN 0 949976 50 4 (32 pp., 27 artists) (©)
---
The Amadlozi Group 1963 - 1964
Exhibitions held at Egon Guenther Gallery and Galleria Numero in Rome, Florence, Milano and Venice in Italy
---
Transvaal Academy Johannesburg 1964 catalogue
Transvaal Academy Johannesburg 1965 catalogue
Transvaal Academy Johannesburg 1969 catalogue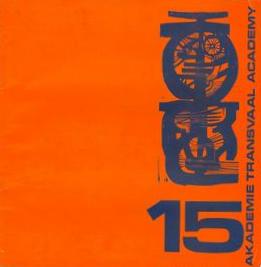 ---
"SCULPTURE SA 1900-1967" - illustrated catalogue published by Adler Fielding Galleries, Johannesburg, 12th September, 1967 (124 sculptures by Ben Arnold, Bruce Arnott, Zoltan Borbereki, Eugène Bouffa, Cabral, Florencio Cuairan, Bill Davis, Eone de Wet, Dumile, Elza Dziomba, Eben Germishuys, George Jaholkowski, Pat Jenkins, Berrell Jensen, Nell Kaye, Moses Kottler, Sydney Kumalo, Eben Leibbrandt, Lippy Lipshitz, Benjamin Macala, Daniel Malan, Solomon Maphiri, Louis Maurice, Eric Mbatha, Patricia McAllister, Ivan Mitford-Barberton, Ronald Mylchreest, Hennie Potgieter, Antonio Quadros, Lily Sachs, Solomon Sedibane, Lucas Sithole, Rhona Stern, Coert Steynberg, June te Water, Ernest Ullman, Justinus van der Merwe, Johan van Heerden, Herman van Nazareth, Anton van Wouw, Spies Venter, Edoardo Villa, Richard Wake, Herman Wald)
---
The Schlesinger South African Art Collection donation to the University of the Witwatersrand Art Galleries, Johannesburg, in 1979 - exhibition catalogue
In addition to the many works donated in 1979, Mr John Schlesinger kept some for his own private collection, including works by Lucas Sithole. See this link on John Schlesinger!
---
"Unie Vleis presents 50 South African Artists Paintings to a given Theme"
Illustrated catalogue of exhibition held at Lidchi Art Gallery, Johannesburg - 20th to 31st May, 1958 - opened by P. Anton Hendriks - including illustrations of works by Alexis Preller, Katrine Harries, Eugene Labuschagne, Walter Battiss, Eleanor Esmonde-White, Russel Harvey, Wim Blom
---
Selected GROUP SHOWS IN EUROPE organised by Adler Fielding Galleries
Piccadilly Gallery, Cork Street, London - "African Painters & Sculptors from Johannesburg" - 15th June to 10th July, 1965 (ill. catalogue with paintings and drawings by Gwabe, Macala, Maqhubela, Mohl, Motjuoadi, Ngatane, Sekoto, Sihlali, and sculptures by Kumalo, Macala, Maphire, Sithole) (PDF)
---
Analysis of selected Pretoria Art Museum Quarterly Bulletins 1970 - 1994
Analysis of selected PAM Bulletins 1995 - 2002
---
South African documentaries, films and audio archives
1927 - 1969
If you have any of the listed material available, please contact us!
---
"Die hedendaagse skilderkuns in Suid-Afrika" (van der Westhuysen) (Ons Erfdeel Vlaams ©), 1962, No 3, pp. 36-49
"Die hedendaagse Beeldhoukuns in Suid-Afrika" (van der Westhuysen) (Ons Erfdeel Vlaams ©), 1963, No 3, pp. 50-67 **
Posters from Gallery 21 Johannesburg 1977-1980 and 1983-1993
Including posters from The Haenggi Foundation Museums 1981-1982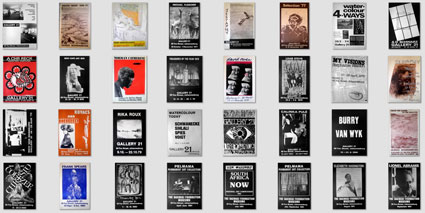 Poster close-ups can be seen on the appropriate links to artists listed at top of this page! For a better overall view of all posters, see this PDF! For posters of other exhibitions by Lucas SITHOLE at Gallery 21, please go to this link: http://www.sithole.com/Exhibition-Posters.htm
---
The Graphic Club of South Africa by Fred Schimmel - history and new site
---
Helen de Leeuw - Johannesburg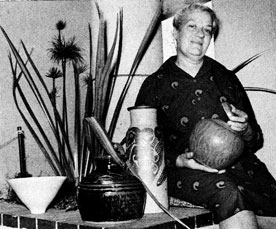 ---
TRANSKEI HILMOND WEAVERS, UMTATA
---
Melvyn PENN - photographer's art
In recognition of the tremendous support Melvyn gave Gallery 101 and Gallery 21 years ago in photographing innumerable art works and gallery premises, pending his publishing a definite portfolio - see this PDF of an article in ARTLOOK November 1972
---
"Vita Art Now" 1986 to 1993 - Johannesburg Art Gallery - an analysis of all artists exhibited and illustrated
---
The Johannesburg Art Scene from the 60's to the 90's - an overview
Background history on the Johannesburg Art Scene from the 1960s to the 1990s
Quick access Index to the Johannesburg Art Scene from the 1960s to the 1990s
Art Links South Africa - artists, artists' estates, dealers, auctioneers, museums - websites and contact addresses - a SA specific random selection
---
WAAG - Willem Annandale Art Gallery, Lichtenburg
POAM - Polokwane Art Museum, Polokwane / Pietersburg
---
South African art of importance offered on international auctions, search:
Bonham's London - The South African Sale
---
Acknowledgment of support received
Background information on various sites set up by The Haenggi Foundation Inc. was compiled between January, 1993, and November, 2011 and beyond from selected data obtained from the files of and with the voluntary support of inter alia:
LAWRENCE ADLER
ADLER FIELDING GALLERIES (BOOK II) (MRS M PARTRIDGE)
WHIPPMAN'S GALLERY (ESTHER ABRAMS)
GALLERY 101 (INCOMPLETE)
GALLERY 21
RICHARD CHEALES
ELZA MILES
ZOLTAN BORBEREKI
DIRK MEERKOTTER
FRED SCHIMMEL
MICHAELIS ART LIBRARY
, Johannesburg
PRETORIA ART MUSEUM, PRETORIA (Dirk Oegema)
JOHANNESBURG ART GALLERY LIBRARY (Jo Burger) (Reshma Chhiba)
GENEALOGICAL INSTITUTE OF SOUTH AFRICA (GISA)
UNIVERSITY OF CAPE TOWN LIBRARIES, Digital Initiatives Unit, RONDEBOSCH
Amanda Anne JEPHSON archives
___________________________
You need to download the free Adobe Reader to read the many PDF files!
---
see also the following sites:
www.pelmama.org - www.sithole.com - www.za-ch-art-kunst.ch/index.htm
---
Various uploads since 2011 on the PELMAMA channel on Youtube, including on:
Christo Coetzee - 1
Maggie Laubser - 1
Judith Mason - 3
Larry Scully - 2
Alexis Preller - 4
Gordon Vorster - 3
Johan van Heerden - 1
Lucas Sithole - 2 + 1 link
PELMAMA Donation at the Pretoria Art Museum - 1
PELMAMA Donation at the Oliewenhuis Art Museum - 4
PELMAMA Donation at the University of Fort Hare - 1
See also Lucas Sithole 1968/1970 documentary by Richard Harvey uploaded in 2014 (12')
.
---
This link to the former
gives you an
insight into problems facing art education in SOWETO during the 70s and 80s
(illustrated, updated to 30th June, 2016)
---
ARCHIVES: SOUTHERN AFRICAN ART AND ART HISTORY
IMPORTANT for RESEARCHERS in EUROPE
---
This website has been put up and is maintained on a voluntary basis by
The Haenggi Foundation Inc.
Postfach 1539
CH-4001 BASEL / Switzerland
Tel.: ++41 61 321 01 90 - Contact: pelmama.thf@gmail.com or info .at. pelmama.org
**Please contact us if you need better images or PDFs!
"The Haenggi Foundation Inc." was registered in 1978 in Johannesburg, Republic of South Africa, as an Association NOT FOR GAIN under Sect. 21 of the Companies Act (Reg. No. 78/00213/08), registered under the (former) FUND-RAISING ACT, Act 107/1978, under FR. No. 01 100270 000 5.
This website is NOT and will NOT be optimized for Mobile and Tablet devices!
---
IMPORTANT NOTICE
As from 1st July, 2017, this website will no longer be updated or maintained.
Please refer to www.art-archives-southafrica.com for updated info!
---
Last updated 25th June, 2017