Marie-Hélène ALBRECHT
Ceramics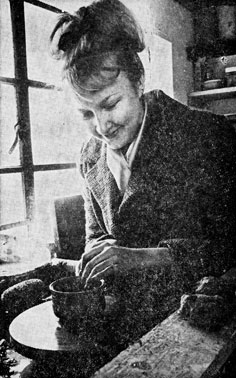 Marie-Hélène ALBRECHT in her studio - 1963
Brief C.V.
Daughter of Rudolph and Elizabeth Albrecht, Johannesburg; while still a student, took part-time ceramic course at Witwatersrand Technical College, Johannesburg, followed by one year at the Fine Arts Dept., University of the Witwatersrand, then attended courses at the Kunstschule Wiesbaden, Germany, followed by an introduction to the Arabia workshops in Finland.
In 1964, Marie-Hélène Albrecht visited Japan where she stayed for a year studying under Japanese artists.
After marrying Dr Rikus Schoonees, moved to Eversdale, Cape Town.
Selected exhibitions
Gallery 101, Johannesburg – December, 1962 (parallel show with batiks by Louis Steyn)
Gallery 101, Johannesburg (Studio Gallery) – 28th November, 1963 (parallel show with Thea Sommerlatte)
Gallery 101, Johannesburg - 1st December, 1965
By 1982, Marie-Hélène Albrecht had held a total of 13 exhibitions of ceramics including one in Cape Town.
Press
The Star, Johannesburg – 12th December, 1962, p. 17
Die Transvaler, Johannesburg – 21st August, 1963 (including biographical details - in Afrikaans)
The Star, Johannesburg - 28th November, 1963
Rand Daily Mail, Johannesburg – 1st December, 1965
Other references
South African Garden & Home, September 1982, pp 38-44, many illustrations
See also:
www.pelmama.org/Johannesburg_artscene_Gallery101_history.htm
Updated 20th August, 2012