Eben LEIBBRANDT
1915-2007
Graphics, Paintings, Mosaics, Sculptures
---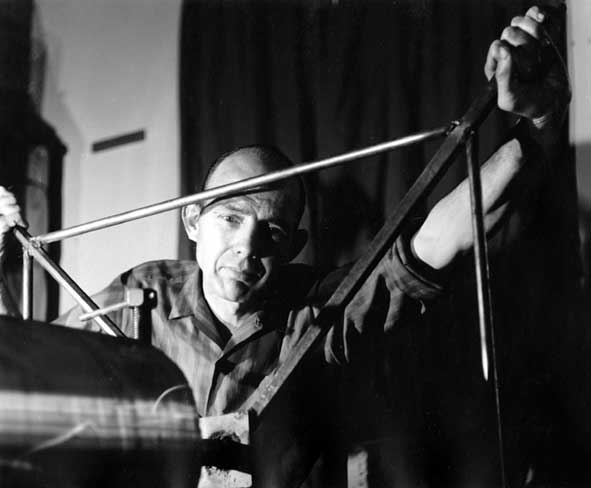 Eben Leibbrandt at his etching press in 1962
Brief Curriculum
1915 Graaff-Reinet, born on 31st January - educated at Grey College, Bloemfontein and Volkskool, Potchefstroom
1937-1940 Studied under Eric Byrd at the Wits Technical Art School, Johannesburg (NATC); 1953-1955 studied at the Central School of Art, London (sculpture)
1958 Lidchi Gallery, Johannesburg - first solo show
1962 SA Association of Arts, Pretoria - solo show
1962 Participated in "Art and Religion" competition at Gallery 101, Johannesburg (Honorary Mention) (February)
1962 Gallery 101, Johannesburg - solo show (5th August)
Eben Leibbrandt holding one his original copper plates shown at Gallery 101 in August, 1962
1963 Senior Art Master at the Forest High School, Johannesburg
1963 São Paulo Biennale - included with graphics in South African entry
1963 Participated in "Arbeid - Work" competition at Gallery 101, Johannesburg (3rd prize) (March)
1963-1965 Chelsea School of Art, London - further studies of graphic techniques
1964 Redfern Gallery, London - included in Summer Exhibition with two paintings
1964 Interpretation Gallery, London - solo show
1966 Adler Fielding Galleries, Johannesburg - solo show of graphics - opened by Cecily Sash on 1st March, 1966
1966 Republic Festival Exhibition, Pretoria
1966 15th Transvaal Academy, Johannesburg - Library Gardens and Selborne Hall (4 sculptures)
1966 Venice Biennale, Venice - included with graphics in South African entry
1969 Gallery 101, Johannesburg "Top South African Artists" (opened by Prof. Ernst van Heerden, 10th February 1969)
1969 S.A. Association of arts, Pretoria - solo show (graphics) (6th June)
1972 Goodman Gallery, Johannesburg - solo show (sculptures)
1970-1974 taught at Johannesburg Technical College
1975 departed for Spain, settling near Barcelona
1977-1982 back in South Africa - no exhibitions held
Returned to Spain - in 1986 he lived in Lloret de Mar, Girona
2007 died at Graaff-Reinet on 22nd October, 2007
Included in South African Graphic Art touring exhibitions to: Canada - 1966; Belgium, Holland, Germany - 1970; Italy - 1972
________________________
Commissions for sculptures received from: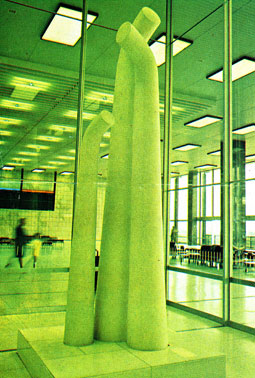 South African Government for a sculpture at Jan Smuts International Airport ("Family Group" 1971 in reconstructed marble)
Goudstad Training College, Johannesburg - 1967
Other commissions included a life-size sculpture for the Klerksdorp Municipality, mosaic murals for Volkskas in Kimberley, Port Elizabeth, Pretoria, a mural painting for Volkskas in Nigel and another commission for White River.
________________________
Works in Public Museums include:
SA National Gallery, Cape Town
Johannesburg Art Gallery, Johannesburg
Pretoria Art Museum, Pretoria
King George VI Gallery, East London
The Hester Rupert Art Museum, Graaff-Reinet
UNISA, Pretoria
Sandton Municipal Art Gallery, Sandton
Pietersburg Art Gallery, Polokwane
________________________
Eben was married to Polly - she was manageress of the street level gallery of Gallery 101, Rand Central, Johannesburg for a while, after it opened in September, 1965.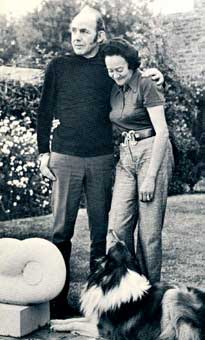 ________________________
Bibliography:
Lantern, Pretoria Vol. XI, No. 3, March, 1962 "Die Grafiese Kunste" (Dr Albert J. Werth), pp. 20-31, ill.
"South African Artists 1900-1962" (Afrikaanse Pers-Boekhandel) (Harold Jeppe), 1963, p. 54, ill.
"Contemporaries - Tydgenote 1963", S.A. Association of Arts, Pretoria, cat.
"Kuns - Art": Republic Festival May 1966 Art Exhibitions, S.A. Association of Arts, Pretoria, cat.
"15th Transvaal Academy of Painting, Sculpture, Architecture", Johannesburg - ill. p. 23
Lantern, Pretoria Vol. XVI, No. 1, September 1966 "Die Grafiese Werk van Eben Leibbrandt" (Frieda Harmsen), pp. 14-21, ill.
"Twentieth Century South African Art" (Human & Rousseau, Cape Town) (1966), p. 105, fig. 77, ill.
"De Arte" (UNISA) No. 1, May 1967 - ill. 7
"Art Collection of the University of South Africa" - UNISA Pretoria, Cat. No 1 (1961-1979), p. 34 (ill.)
"Century of South African Art 1869-1969" (cat. of exhibition organised by Eljira Solomon for Lions International, Johannesburg - cat. 206/7)
"Eben Leibbrandt" (Wim Blom), 1972 - ISBN 0 620 00196 8, ill. cat.
"South African Graphic Art and its techniques" (F.L. Alexander) (Human & Rousseau, Cape Town), 1974, ill. p. 165
"Art & Artists of South Africa" (Berman) (Balkema) (1983), pp. 257/258, 406, ill.
"The Dictionary of South African Painters and Sculptors including Namibia" (Ogilvie / Graff) (Everard Read), 1988 – ISBN 0 620 12663 9 – listed on p. 373
"Images of Metal" (Rankin) (Witwatersrand University Press), 1994, listed pp. 150, 175
"Printmaking in a transforming South Africa" (Hobbs/Rankin) (David Philip), 1997, listed
"ABSA Group Corporate Art Collection 1900-1997" (Loedolff/Basson) (ABSA), 1997, ill. p56
________________________
Click on following first 4 selected images for a better view and/or additional works from the same period!
1962

Eben Leibbrandt "Day is done", 1962 - oil/paper applied with roller
1964

Eben LEIBBRANDT "Crucifix", 1964 - oil/canvas - meas. n/a
1964

Eben Leibbrandt "Abstract Composition", 1964 – etching no. 15, 47x61 cm - auctioned by Russell Kaplan, Johannesburg - September, 2016 - Lot P34
1966

Eben Leibbrandt "After the singing woods - Easter Islands", 1966, embossed etching 44x60cm (Coll UNISA, Pretoria)
1972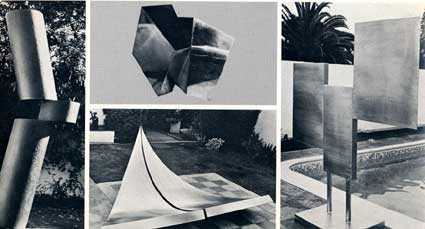 illustrated in "Eben Leibbrandt" (Wim Blom), 1972 - ISBN 0 620 00196 8 catalogue
If you have additional information or images on Eben Leibbrandt and his work, please let us know so that we can update this page!
________________________
You need to have the free Adobe Reader to read the PDF files!
________________________
uploaded 3rd September, 2016