Pinchas ABRAMOVITCH
Paintings
1909 - 1986
---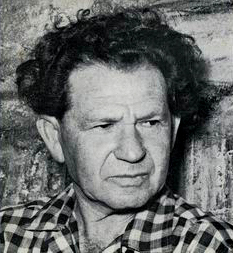 Pinchas Abramovitch in 1966
---
Brief C.V.
Pinchas Abramovitch was born in 1909 in Lithuania. He studied at the Academy of Fine Arts, Kovno, Lithuania, then emigrated to Israel in 1929 (Kibbutz Beit Zera), studied 1935-1936 at the Grande-Chaumière, Paris, taught at various schools in Tel-Aviv 1947-1952. In 1948 he was one of the founding members of "New Horizons", between 1952-1972 he was lecturing at the Seminar Hakibbutzim, Tel Aviv.
In 1954, he was one of the founders of the Artists' Village Ein-Hod: between 1981 and 1984, he was Chairman of the Association of Painters and Sculptors in Israel, and in 1985 its Hon. President.
Pinchas Abramovitch (a.k.a. Pinchas Abramovitz/Abramovic) died in 1986 in Tel-Aviv.
---
Awards and Prizes
1966 Monaco Prize
1967 Dizengoff Prize for Painting and Sculpture, Municipality of Tel Aviv Jaffa, Tel-Aviv
1985 Hon. Degree, Art Association, Frankfurt
---
Selected Exhibitions in South Africa and abroad
Included in the São Paulo Biennale, 1953
Coronation Hall, Johannesburg - October, 1955
Gallery 101, Johannesburg - 4th April, 1966 ("Paintings from 1950 to 1966"), opened by Prof. Rabbi J. Newman
---
Press reviews from Johannesburg
Johannesburg (R.D.M. or The Star) - 4th July, 1966
---
Selected images from the 50s and 60s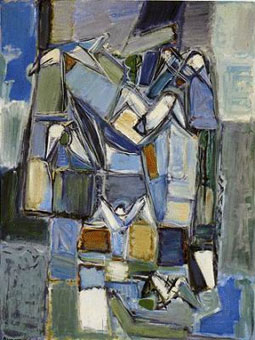 "Composition with doves", 1957 - oil/canvas - 124.5x95 cm (img. www.imj.org.il)
Please view more paintings by clicking on this link!
Some of these paintings were most likely on exhibition at Gallery 101 in 1966 - documented records of exhibited works are unfortunately no longer available!
---
Note:
You can browse the artist's file at the Information Centre for Israeli Art, Israel Museum, Jerusalem:
http://www.imj.org.il//imagine/collections/index.asp
(102 Articles, 66 Artwork reproductions, 27 Exhibition invitations)
---
Uploaded 29th October, 2012