Shadrack Sepenya HLALELE
1956*
Graphics, Paintings
---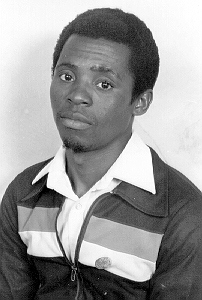 Shadrack HLALELE in 1981
---
Biography
Shadrack Sepenya (Swenkie) HLALELE, a Southern Sotho national, was born on 17th March, 1956, into a family of seven, in Sharpeville where he has lived most of the time.
Educated at Lekoashandu High School in Sharpeville 1971-1978 (Std 8), followed by vocational training at ELC Art & Craft Centre, Rorke's Drift 1979-1980 (2-year Fine Art Course) (Diploma obtained); further period of specialisation in etching and paintings at the same centre from 1980 to 1981.
Intensive 6-month German course at Goethe Institute in Germany prior to studying at Düsseldorf Akademie (under Prof. Joseph Beuys and Rolf Sackenheim), as a result of gaining 2nd prize in "The Haenggi Foundation National Art Competition, 1981", Johannesburg, sponsored by the Konrad Adenauer Foundation (Institute for International Partnership), St. Augustin, Germany.
---
Personal Notes about the trip to take up the bursary
Shadrack HLALELE left on the same LUFTHANSA plane as Lucas SEAGE (overall prize winner), on 26th October, 1981. Whilst he was sent off by his family, cousins and numerous friends nobody saw SEAGE off as he had not found it necessary to notify anyone!
Whereas SEAGE came back too early, cutting his trip by about 6 months, Shadrack HLALELE seems to have had problems (only coming back early 1986), getting into difficulties and bad company, running out of money, and finally having his personal belongings, clothes and drawings impounded by the Manager of the Studentenheim, Kopernikusstrasse 78, Düsseldorf, during 1983!
Shadrack HLALELE came back a broken person, with mental problems, and could never work again - this is what we gathered from his last visit to our gallery in 1986.
The result of this was that the KONRAD ADENAUER FOUNDATION ceased to ever finance another art competition.
(FF Haenggi to Rankin/Hobbs 12th November, 2001)
See http://kotisphola.weebly.com/news.html for further details about Shadrack's health in 2014.
---
Selected Works and Publications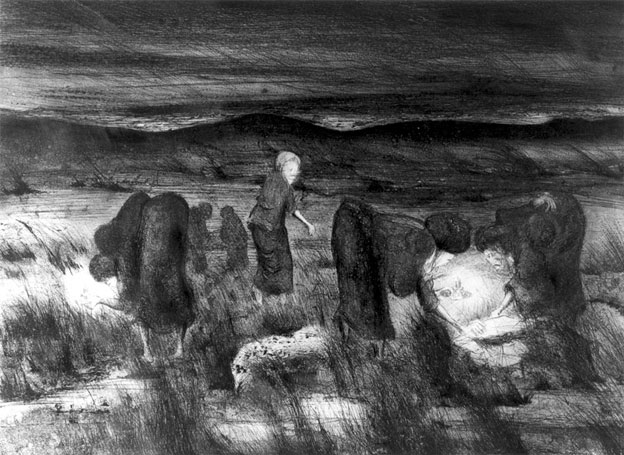 "The search", 1981 - etching 2/8 - 22x30.5 cm
Prize awarded for this work:
"South Africa Now, 1981" organised by The Haenggi Foundation Inc., Johannesburg (Konrad Adenauer Foundation sponsored First Prize for "Other media")
©Copyright to this work is held by The Haenggi Foundation Inc. under signed agreement with the artist, dated 30.7.1981
Work donated to the SA National Gallery, Cape Town 2008
http://www.pelmama.org/HLALELE.htm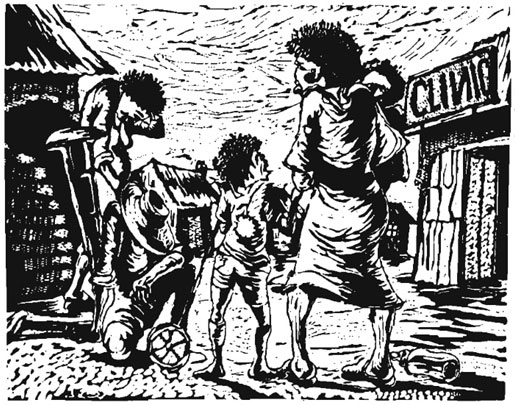 "Clinic", undated - linocut
Illustrated in "Staffrider", Johannesburg – Vol. 3 No. 4, December 1980/January 1981, p.15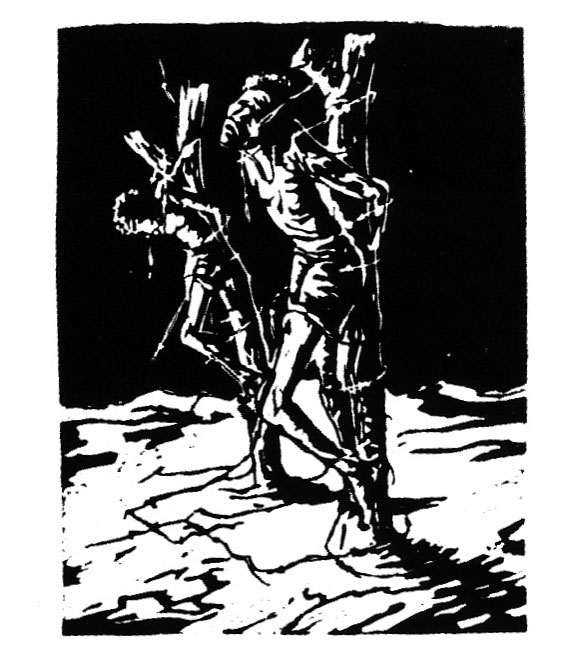 "Lynched figures", undated – linocut – 28x21.6 cm – ELC Collection (©)
"Rorke's Drift - Empowering Prints" (Hobbs / Rankin) (Double Storey Books) (2003) - ISBN 1-919930-13-2 p. 153 (©) illustrated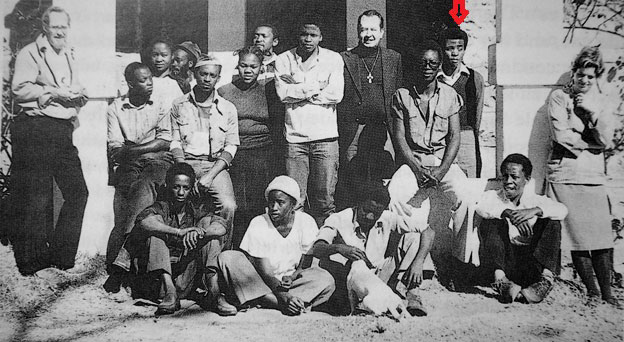 Rorke's Drift Fine Arts School Community in early 1979 including Shadrack Hlalele (img. © Hobbs/Rankin 2003)
"Images of Man - Contemporary South African Black Art and Artists" (E.J. de Jager) (Fort Hare University Press), 1992, listed p. 37 - ISBN 1-86810-015-4
"Printmaking in a transforming South Africa" (Hobbs/Rankin) (David Philip), 1997, listed p.131 – ISBN 0-86486-334-9
"Historical Perspective of Black Art in South Africa (1930-1986)" Alliance Française, Pretoria - 24th May, 1986, exhibition cat. no. 39 ("Untitled", 1980, linocut)
---
Selected Web References
"Contextualizing the use of biblically derived and metaphysical imagery in the work of Black artists from Kwazulu-Natal: c1930-2002" (Juliette Cécile Leeb-du Toit, 2003), listed p.213
"The roots of black Post-Apartheid Art in South Africa" - essay by Aneta Pawłowska, University of Łódź (per Academia.edu), listed
----------------------------
http://fleursdumal.nl/mag/category/exhibition/galerie-deutschland/page/3
(Kunstakademie Düsseldorf – Rundgang 2010: Einige Studenten und Professoren von 1819 bis heute)
----------------------------
http://www.timeslive.co.za/entertainment/2010/11/28/artist-demands-more-than-conventional-understanding
(Avhashoni Mainganye stating about his art studies at Rorke's Drift: "It was here that I met Shadrack Hlalele, an artist fondly known as "the Master")
--------------------------------
http://www.thefullwiki.org/Kunstakademie_Duesseldorf
(Notable Professors and Students)- Shadrack Hlalele (1981–86) (Student under Professors Joseph Beuys and Rolf Sackenheim)
---
NOTE:
If anyone has more images or information on Shadrack HLALELE, please contact us on this link!
---
Updated on 8th June, 2016