Azaria MBATHA
1941*
artist and author
---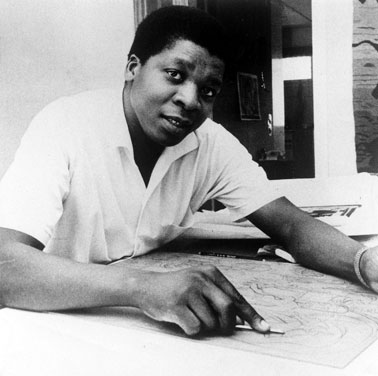 Azaria Mbatha in 1969
Brief C.V.
Born 1941 at Mabeka (Ensukazi) in the Mhlabatini district, KwaZulu-Natal. Living in Lund, Sweden, since 1970.
Azaria Mbatha's life and work is well documented in print and on the web, thus we have concentrated on his involvement with Gallery 101 and Gallery 21, Johannesburg, during the 60s and 80s.
Selected Solo Exhibitions
Gallery 101, Johannesburg - 13th - 24th October, 1969 - invitation + catalogue
SA Association of Arts, Pretoria - South Gallery - 7th June, 1982
"Mbatha in Africa" exhibition - The Standard Bank National Arts Festival, Grahamstown - 2nd to 11th July, 1992
Johannesburg Art Gallery, Johannesburg - "Azaria Mbatha" . 28th January, 1993 - opened by Rochelle Keene
Pretoria Art Museum, Pretoria - "Mbatha in Africa" - 3rd March, 1993 - opened by Frieda Harmsen
"Azaria Mbatha Retrospective Exhibition" - national travelling exhibition organised by Durban Art Gallery 1998-2000
Selected Reviews and Publications
ARTLOOK 35, Johannesburg - October, 1969 - p. 30, ill.
South African Digest, Pretoria - 3rd October, 1969, p.14, ill.
Rand Daily Mail, Johannesburg - mid-October, 1969 - review
South African Financial Gazette, Johannesburg - 17th October, 1969 - review
Die Vaderland, Johannesburg - 21st October, 1969 - review
Sowetan, Johannesburg - 24th July, 1981 - ill.
"Art & Artists of South Africa" (Berman) (Balkema), 1983, p. 281-282 a.o.
"Azaria Mbatha - Im Herzen des Tigers" (W. Eichel) (Peter Hammer Verlag) (1986) 72 pp. ill. - ISBN 3-87294-308-1
"Azaria Mbatha - In the Heart of the Tiger" (W. Eichel) (Verlag Vereinigte Evangelische Mission) (1986) - ISBN 3-921900-10-7
"The Dictionary of South African Painters and Sculptors including Namibia" (Ogilvie / Graff) (Everard Read), 1988 – ISBN 0 620 12663 9 – listed on p. 428/429, ill. 2 images after p. 412
Insig, Johannesburg - July 1991 - ill.
"Images of Man" (de Jager) (Fort Hare University Press) (1992) pp. 85-88 - ISBN 1-86810-015-4
Financial Mail, Johannesburg - 11th February, 1993
"Azaria Mbatha Retrospective Exhibition" (Jill Addleson et al.) (DAG) (1998) - 132 pp. illustrated - ISBN 0-620-23192-0
"Rorke's Drift - Empowering Prints" (Hobbs / Rankin) (Double Storey Books) (2003) - ISBN 1-919930-13-2
Azaria Mbatha's graphic works have been reproduced on numerous cards published by the Institute of Race Relations, Durban, the Johannesburg Art Gallery, UNISA Art Gallery and others
Notes
Early 1988, Gallery 21 Johannesburg approached Azaria Mbatha for a possible travelling exhibition in South Africa of his linocuts, etchings, woodcuts and silk screens. However, by the end of August, 1988, Gallery 21 notified Azaria Mbatha that not only was South Africa suffering economically at that time, but that in order to stop imports, the Government had imposed a 60% surcharge at the beginning of August, 1988, on all imports of works of art, antiques, objects d'art, levied on the fob value! This project thus never materialised.
Additional Reading
Essay by Rhoda Rosen, 1992: "Art History and myth-making in South Africa: the example of Azaria Mbatha"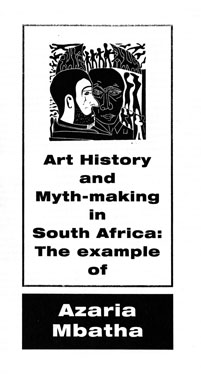 published on the occasion of the Azaria Mbatha Exhibition, Standard Bank National Festival of the Arts, Grahamstown, 1992
"Deciphering aspects of Azaria Mbatha's worldview located in specific religious themes and images employed in his work" (dissertation by Leigh Jansen
©, 2007 - NRF/CHELSA)
Selected works on web
PELMAMA Permanent Art Collection in various museums in South Africa
Search the web also with http://images.google.com/
Selected writings published by Azaria J.C. Mbatha
"Within Loving Memory of the Century: An Autobiography" (2005) University KwaZulu-Natal Press, 398 pp. - ISBN 978-1869140625 / 1869140621
"The Roaring Lion and Wedding Bells" (2007) Booksurge Publishing, 436 pp - ISBN 978-1419659614 / 1419659618
"An Autobiographical Narrative & Identity: A Pictorial Glance 1960s -1990s

" (2009) Booksurge Llc, 500 pp -

ISBN 978-1439257531 / 1439257531
"Ecstasy, Creativity and Identity Amid Ironclad Chaos

" (2010) CreateSpace, 812 pp

- ISBN 978-1452862910 / 1452862915

Last updated 16th October, 2014