Margaret RICHARDSON
1908 - 1989
jewellery in silver and gold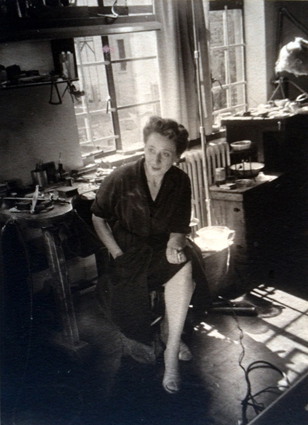 Margaret Richardson in her studio in Johannesburg 1958
Brief note on the artist
Born Lilly (Ulli) Margarete Samuelson ("Margie") on 1st October, 1908 in Königsberg (Eastern Prussia) (now Kalinigrad). Her father was Robert Samuelson (b. 1858, d. 13th April, 1932), a military doctor, her mother Edith (née Rosenberg) was a military nurse. In 1914, Margaret and sister Eva stayed with an aunt in Berlin as a result of the Russian attack at the Battle of Tannenberg.
After attending school in Königsberg, Margaret trained as gold and silversmith at the Fachschule Schwäbisch-Gmünd, graduating in 1928 (3 years as a jeweller, 3 years to obtain a master's qualification); she then worked in her home town Königsberg, later in a rented house at 2 Uferstrasse, Schwäbisch-Gmünd. She fled in 1936 from Nazi Germany over England to Tel-Aviv, Palestine, where she worked as a gold and silversmith.
In 1943, she met Freeman Richardson, in 1944 she travelled alone to Durban on the first civilian flying boat, then married Freeman in 1944 and moved to Bloemfontein, as her husband was in the Air Force there. In 1946, they moved to Cape Town as her husband had started an import/export business, Margaret working as a gold and silversmith.
In 1956 Margaret Richardson moved to Johannesburg, she divorced in 1957.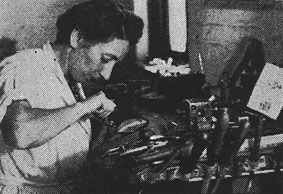 Margaret Richardson in 1958
Her first studio was at von Brandis Building in von Brandis Street, Johannesburg, later she opened a studio at 909 Philadelphia Court, von Weilligh Street, near the GPO in Jeppe Street, Johannesburg, which she kept until around 1973, then moved her studio to a private home in Woodmead, Sandton, where she died on 20th June, 1989.
Margaret Richardson was a member of the Witwatersrand Gem and Mineral Club, Johannesburg. She was a very private person who did not seek much publicity, hence the lacuna on her past. She had no children of her own. In 2016, her step-daughter in Johannesburg updated us on missing information.
Most of her work was done in Sterling silver, very occasionally she was also commissioned for an item in gold.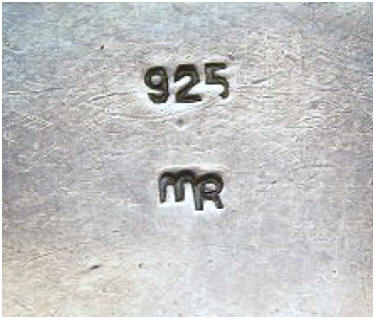 Margaret Richardson's stamp on silver - on gold she used the initials MR and 18ct
Selected Exhibitions
1958
The Craftsman' Market, Greatermans Bldg., Johannesburg - August, 1958 (solo) (opened by Mrs G. Kapsambelis)
1961
Helen de Leeuw's Gallery, Hamilton's, Pretoria (hand-made jewelry by 7 South African craftsmen), opened in June 1961 by Phyllis Konya: Margaret Richardson, Else Wongtchowski, Kurt Jobst, Eone de Wet, Johan van Heerden and Gilroy King.
1964
Living, Royal Arcade, Pritchard Street, Johannesburg (owned by Monty Ashman) - 17th March (solo)
1965
Gallery 101, Rand Central, 165 Jeppe Street, Johannesburg – ground floor gallery – permanent display as from September, 1965 until the 1970s
Press
Die Vaderland, Johannesburg - 23th August, 1958 , p.15, ill.
The Diamond News and S.A. Jeweller, September 1958 (Romance of S.A. Jewellery Trade)
South African Art News and Review, Johannesburg: Vol. I No. 7, 20th July, 1961, p. 5
The Star, Johannesburg - 16th March, 1964, p.15, ill.
Goldschmied Zeitung 68(4), 1970, p. 416 ("Arbeiten aus Südafrika") (Eberhard Dechow) (PDF)
"The Jewish Report", Johannesburg, 24th-31st October, 2008
Items sold on international auctions
Dreweatts1759: 20th Cent. Design & Decorative Arts, Donnington Priory, Newbury Berkshire UK - 24th June, 2008
Dreweatts1860: Decorative Arts, Donnington Priory, Newbury Berkshire UK - 8th June, 2010 - Part Lots 180/181
Web references
http://www.pelmama.org/Johannesburg_artscene_Gallery101_history.htm
http://www.dnfa.co.uk/
http://www.scarabantiques.com/
http://sagoldsmiths.blogspot.com/2011/07/south-african-goldsmiths-erich-frey.html (see Note 77)
A selection of jewellery by Margaret Richardson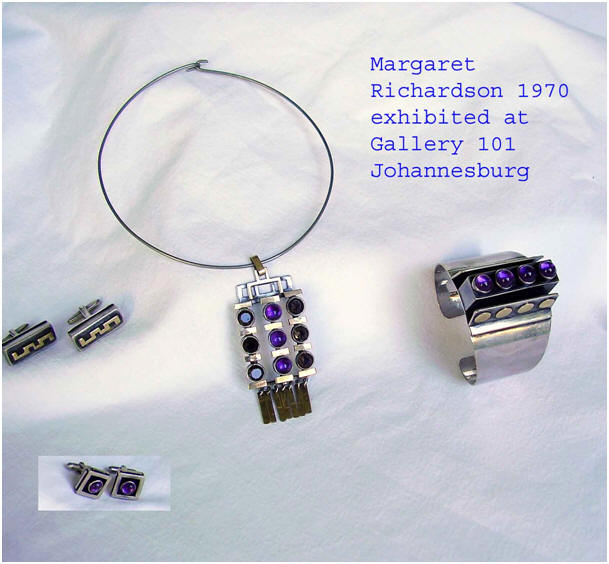 View Selected items on this link - 3 pp. - PDF
Archives from the artist's family in Johannesburg in 2016 - 11 items - PDF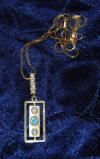 Margaret Richardson gold pendant with opal and diamonds on gold chain
Click on image for better view!
See also items sold on auction in the U.K. in 2008 - (PDF)
If you have additional images on Margaret RICHARDSON or of her creations, please send them to us so that we can include on this page!
© Margaret Richardson Estate or respective owners
You need to have the free Adobe Reader to read the many PDF files!
Last updated - 28th February, 2016