Ulrich SCHWANECKE
1932 – 2006
Watercolours, paintings, illustrated books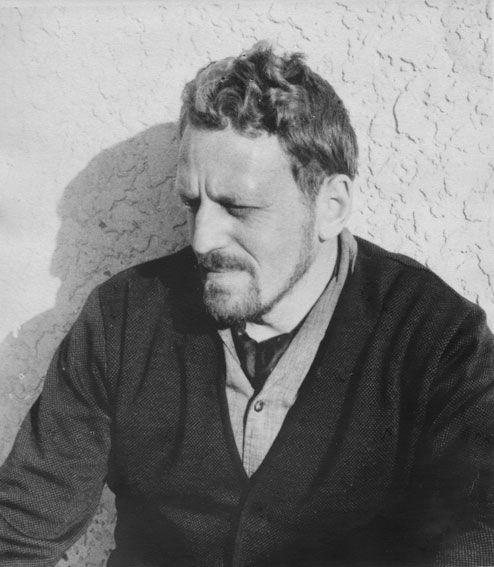 Ulrich Schwanecke in 1967
---
Short biography
Ulrich Konrad Heinraich Valtin SCHWANECKE was born on 6th January, 1932, in Halberstadt (Harz), Germany. He emigrated to South Africa in 1952 as a mining recruit.
Visited SWA for the first time in 1962, together with the artist Jan Buys. In 1965 and 1966, Ulrich Schwanecke and Durant Sihlali went jointly on landscape painting trips to SWA.
Ulrich Schwanecke died on 15th October, 2006, in Johannesburg
---
Please click on following images for a better view!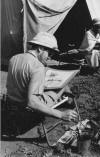 Until 1970, Ulrich Schwanecke painted mostly on the spot from nature

Thereafter his work was done in the studio using reference material collected during hikes and safaris.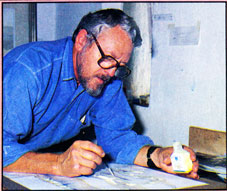 Ulrich Schwanecke in his studio in Johannesburg in 1988 (img.© Nella Botha)
---
He travelled extensively outside Southern Africa, including:
Greece 1985 – USA 1985 and 1987 – Portugal 1989 – Australia 1990 – Egypt 1992 – China Mainland 1994
---
Selected solo shows in Southern Africa
Chelsea Gallery, Wynberg, Cape Town
1986 – 4th July; 1988 – 11th April; 1990 6th September; 1992 – 26th November; 1994 – 9th May
Crake Gallery, Johannesburg
1994 – 15th August
Gallery 101, Johannesburg
1966 – 23rd May; 1967 – 31st July; 1968 – 1st July
Gallery 21, Johannesburg
1977 – 16th August; 1980 – 26th August; 1983 – 22nd November; 1984 – 2nd December; 1986 – 18th November; 1989 – 3rd May ("Bird/Man"); 1990 – 6th March ("Ostermond")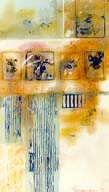 A work from the Ostermond Series by Ulrich Schwanecke, 1990
Gallery International, Cape Town
1984 – 6th August
Guild Gallery, Pretoria
1991 – 2nd September
Hoffer Art Gallery, Pretoria
1980 – 14th October; 1984 – 25th September; 1986 – 11th March
Karen McKerron Gallery, Bryanston
1985 – 11th August; 1987 – 15th August; 1988 – 7th August; 1989 – 8th October; 1991 – 24th March; 1992 – 22nd March; 2000 – 21st May
Kleine Galerie, Windhoek
1995 – 16th March
Kunstvereinigung Namibia, Windhoek
1989 – 18th May

Click on image for details!
SA Association of Arts, Pretoria
1970 – 9th November
Schweickert Art Gallery, Pretoria
1989 – 9th November; 1993 – 23rd June; 1995 – 20th April
The Haenggi Foundation Inc., Johannesburg
1981 – 1st November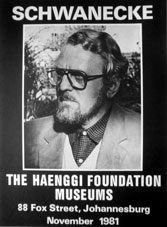 ---
Selected solo shows in Germany, Switzerland
Bad Harzburg – Kurhaus Kunst Kabinett – 23rd May, 1987
Basel – Artimex Fine Arts – 9th May, 1998

Click on image for details!
Installation view - Basel - May, 1998
Details of 3 watercolours on view in Basel, 1998
Bonn – Deutsche Afrika Stiftung – 28th October, 1993
Derenburg – Kloster Michaelstein – 1st May, 1998
Hagenstal/Elgg – 5th September, 1992 ("Panoramen des Sόdlichen Afrikas")
Thun – Gallery Rosengarten – 10th June, 1996 (Ulrich also presented 3 one-day workshops)

Click on image for details!
Thun – Gallery Rosengarten – "Kreuz + Quer" / "Criss + Cross" - 15th July to 10th August, 1996
Thun – Gallery Rosengarten – Aquarell International - 18th August to 13th September, 1997
---
Selected Works

"The edge of the Namib" - watercolour - 58x156 cm - auctioned by Russell Kaplan Auctions, Johannesburg - 30th March 2013 - Lot P38

"Extensive landscape SWA" 1986 - watercolour - 4 in 1 - 61x176 cm - auctioned by Russell Kaplan Auctions, 18th February, 2012 - Lot P33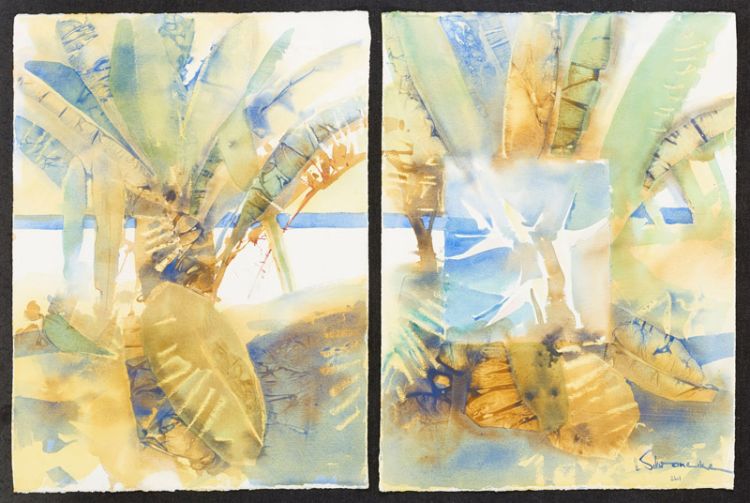 "Banana Trees" - watercolour - 2 in 1 - 114x76 - over 2 sheets 109x148 cm - auctioned by Strauss & Co., Johannesburg - 20th April, 2015 - Lot 235
Most museums in South Africa own Ulrich Schwanecke's watercolours
---
Illustrated article in "South African Panorama" - June, 1988 pp. 48/50 showing many of his watercolours
---
Ulrich Schwanecke produced art calendars over a number of years illustrated with his watercolours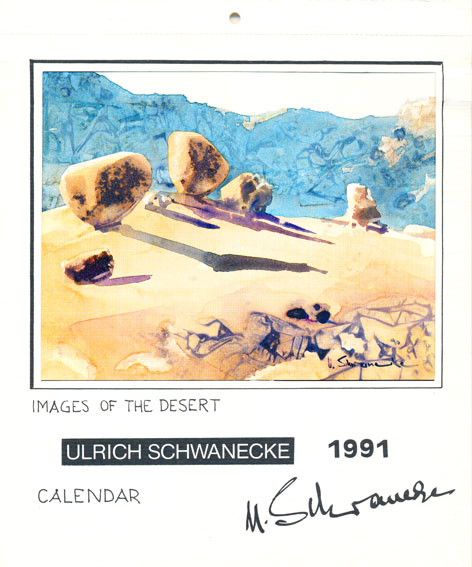 ---
Ulrich Schwanecke published a number of art books, accompanied by his writings, often of a satirical.nature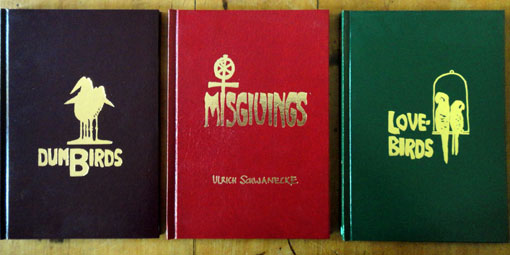 Illustrated list -17 publications - PDF
---
Some links to his works
---
Updated 23rd August, 2016