Richard LACEY
Sculptures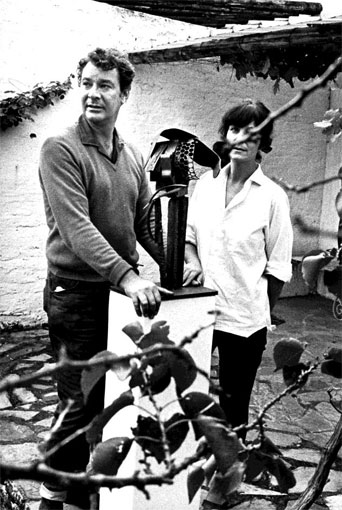 Richard LACEY in 1967
---
Background information
Richard Lacey, born in Johannesburg, qualified as an architect in London, was under contract to an American film company, using his music in television films; he did stage work in London, returning with his wife Patricia to South Africa in 1959 (his mother was well-known Renée Lacey from Johannesburg). Richard lived on his small holding Winskill Farm, Old Rustenburg Road, near Johannesburg (renting out studios to artists, including Louis le Sueur in 1967). Richard divorced, later moving to Cape Town (author and poet).
Exhibitions
In 1967, Gallery 101, Johannesburg, organised an exhibition of his sculptures at Richard Lacey's home – Winskill Farm, Old Rustenburg Road, off Johannesburg (8th to 24th April, 1967)
in 1976, included in Group Exhibition of 6 artists at SA Association of Arts, Cape Town (during June/July)
Press reviews
South African Digest, Pretoria – 14th April, 1967, p. 12
Rand Daily Mail, Johannesburg – undated review from April, 1967
Rand Daily Mail, Johannesburg - 19th April, 1967 (Gallery 101 art listing)
The Star, Johannesburg – 10th April, 1967, illustrated
ARTLOOK (5) Johannesburg - March-April 1967, Vol I No V, p. 5, illustrated
SA Association of Arts, Pretoria - Vol 1 No. 6 - July, 1976, p. 9, ill.
"Art & Artists of South Africa" (Berman) (Balkema), 1983, listed on p. 526 (under "Professional Exhibitors")
Web reference
http://www.artbomberg.com/articles1.html
http://www.raymondo.demon.co.uk/books/cwf.htm#PATRICIA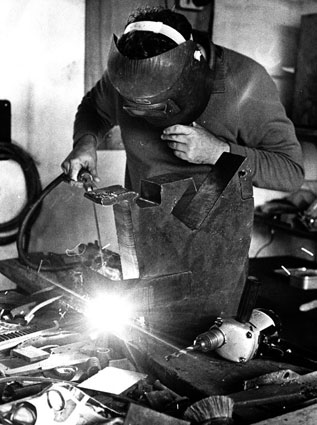 Richard Lacey at his studio, 1967 - all photographs by James Soullier
---
Note
If you have further information on the artist, please contact "info at pelmama.org"
---
Updated 10th January, 2016