Eric BYRD
1905 - 1983
Paintings, watercolours, drawings, illustrations
Eric Byrd in 1953
click on image for more details!
Short C.V.
Born in Durban on 18th February, 1905, Eric Byrd was taken to England in 1906, raised in Cardiff, Wales, and studied from 1921 to 1923 art and architecture at the Cardiff School of Art, Wales; from 1924 to 1925 he studied painting at the Hornsey School of Art, London (under John Moody and Robert Lyon), obtaining the Art Teacher's Diploma; in 1927 he was appointed art-master at Hornsey Country School. Besides part-time studies at the Slade School of Art London during 1934 (under Randolph Schwabe), he taught life-drawing at Hornsey School of Art and travelled in France, Italy and Western Germany.
He returned to South Africa in 1936, was appointed a lecturer at the Natal Technical Art School in that year; subsequently he lectured at the University of Natal, Pietermaritzburg (Fine Art Dept.) until 1937.
In 1938, he designed artworks for the Ceramic Studio, Olifantsfontein (tile panels for the Groblershoop Post Office, N. Cape).
From 1938 to 1943 Eric Byrd was a lecturer at the Fine Art Dept., Witwatersrand Technical College, School of Art and Craft; he was Acting Head there from 1940 to 1943.
During the 1940s, Carl Büchner, Hennie Potgieter, Eben Leibbrandt, Douglas Portway, Thelma Wise and others were students of Eric Byrd at the Witwatersrand College in Johannesburg.
Between 1943 and 1950, Eric Byrd now based in Durban, taught at the Tech; he did free-lance painting and was very active in Durban's art life and he was also a Council member of the NSA, Durban.
In 1950, Eric Byrd followed his brother Dr Kenneth Byrd of McGill University, Montreal, emigrating to Canada. He then began to teach in Montreal, Quebec. In 1953 he was briefly attached to the Art Faculty, Banff School of Fine Arts.
In 1954, he was attached to the staff of the School of Art at the Sir George Williams University, Montreal, Canada (which as from 1974 was known as the Concordia University following the merger of Loyola College and Sir George Williams University). In 1954, one of his students there was Canadian artist Robert Venor.
In the 1963 Sir George Williams University Yearbook, Eric Byrd is listed as teaching Basic and Life drawing and also Art History. He left the SGW School of Art in 1965.
During his time in Montreal, he was also a radio commentator; in 1954, he gave talks on "painting in Africa" to the Women's Art Society, Montreal, and gave practical demonstrations of the art of watercolour painting at the Montreal Museum of Fine Art.
Eric Byrd subsequently visited and exhibited in South Africa on numerous occasions.
See additional details on the occasion of the Eric Byrd Retrospective at Peachland Little Schoolhouse, BC, Canada, on 26th June, 2004, organised by his nephew, Christopher Byrd.
Eric Byrd died on 5th May, 1983, while staying with friends in Grahamstown, South Africa.
Works included on Selected Exhibitions
Johannesburg Art Gallery, Johannesburg (Empire Exhibition 1936)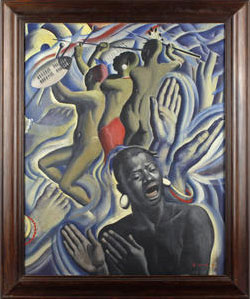 Note: this work was put up on auction at Bonhams Oxford on 9th January, 2013, Auction 20672, part Lot 50
Selected Gallery Exhibitions
Gainsborough Gallery, Johannesburg – 1943
Argus Gallery, Cape Town - 1st to 6th November, 1943 (inv/cat.)
Included in the "New Group" exhibitions held South Africa in 1941, 1942, 1944, 1945, 1947
Argus Gallery, Cape Town - 5th to 18th June, 1946 (opened by Dr Erik Chisholm)
Tudor Galleries, Durban - 8th to 19th October, 1946
Gallery 101, Rand Central, Johannesburg (4th September, 1962)
Museum Shows
"Nuwe Groep - New Group 1938-1954" - travelling exhibition in 7 SA museums 1988 - 1989 (Cape Town, Johannesburg, Kimberley, Pretoria, Pietermaritzburg, Durban, Port Elizabeth), cat. 10
Montreal Museum of Fine Arts, Montreal (Spring Exhibition) – 1955 (1 work)
Montreal Museum of Fine Arts, Montreal (Gallery XII) (3-man show with John C. Little and Pierre de Ligny Boudreau) – 21st February to 4th March, 1953 (19 works) - catalogue (PDF)
Public Collections
Durban Art Gallery, Durban
"The Italian straw hat", 1946 - oil/canvas 76x61 cm (presented in 1962)
SA National Gallery, Cape Town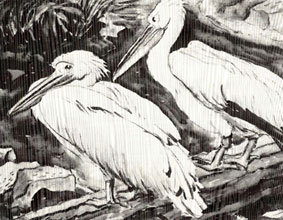 "Pelicans", 1940 - watercolour 37.2x50.2 cm
Ditsong National Museum of Military History, Johannesburg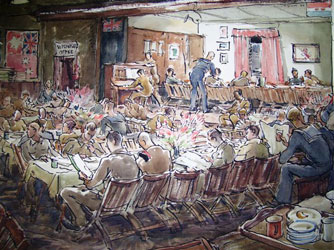 Please click on this link for additional images and details!
ILAM, Rhodes University, Grahamstown
Works on Auction
Dreweatts, Donnington, Berks. UK - 19th February, 2008 - Lot 247
"Temptation", 1933 - oil/canvas - 50x60 cm
_________________________________
Stephan Welz & Co., Johannesburg - 18th October, 2011 - Lot 414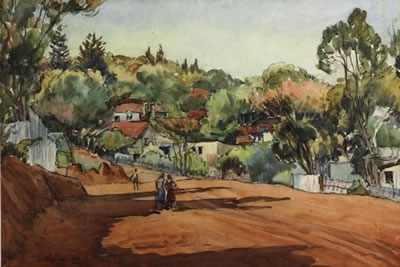 "Township scene", 1942 - watercolour/charcoal/paper - 37x55 cm
Stephan Welz & Co., Johannesburg - 16th April, 2007 - Lot 303
"Ploughing the fields, Bedfordview Farms", 1945 - pen & ink/watercolour - 38x55 cm
_________________________________
Russell Kaplan Auctioneers, Johannesburg - 3rd August, 2013 - Lot P116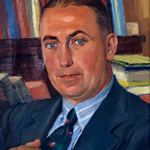 "Portrait of E.W. Denley", 1940 - acrylic on canvas - 49.3x39.4 cm
_________________________________
Bernardi's Pretoria - 4th November, 2013
"Floral still life", 1975 - mixed media - 47x64 cm - Lot 470
Bernardi's Pretoria - October, 2006 - Lot 288
Bernardi's Pretoria - 6th August, 2006
"Stillife", 1942 - watercolour - 54x40 cm - Lot 400
Westgate Walding Auctioneers, Johannesburg - 29th January, 2014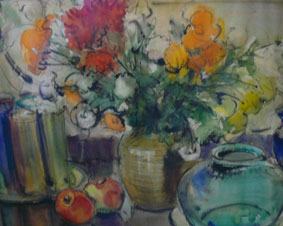 "Stillife" , 1959 - pen & ink/watercolour - 47x61 cm - Lot 503
Rudd's Auctioneers, Cape Town - 30th September, 2014 - Lot 425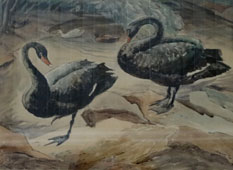 "Black Swans", 1943 - ink & watercolour - 39x53 cm - Lot 425
_________________________________
Works in a Private Collection, Canada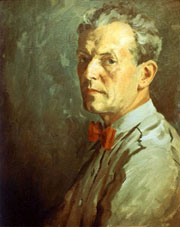 Eric BYRD "Self-portrait" - oil/hardboard - 61x51 cm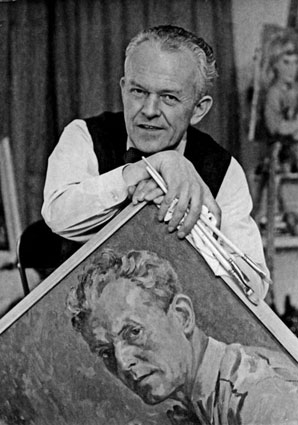 To view five other works from this Collection, please click here!
4 early South African works - 1947, 1968, 1978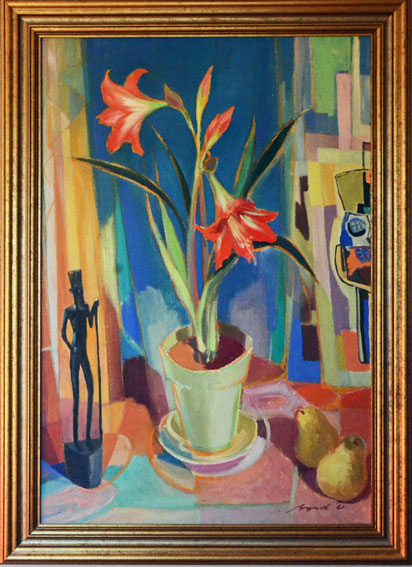 "Still life with red Iris", 1961 - oil/canvas - 81x56 cm
Other Selected Works in Private Collections

"Portrait of a Miner", 1942 - oil/canvas
See a variation on this theme on this PDF link - image 2!
Book Illustrations
"Lalela Zulu" - 100 Zulu lyrics by Hugh Tracey, illustrated by Eric Byrd (African Music Society) (1948)
"The Lion on the Path and other African stories" told by Hugh Tracey, with illustrations by Eric Byrd and music transcribed by Andrew Tracey (Routledge & Kegan Paul UK/Praeger USA) (1967)
In Canada, Eric Byrd illustrated the article "Current Accounting Opinions in the United States and Canada" by his brother Prof. Kenneth F. Byrd, McGill University, Montreal, published in "The Accountant", Vol. 124 (Lafferty Publishers), 1951
References
"Art & Artists of South Africa" (Berman) (Balkema), 1983 - ISBN 0 86961 144 5
"The dictionary of South African Painters and Sculptors including Namibia" (Ogilvie) (Everard Read), 1988 - ISBN 0 620 12663 9
"Nuwe Groep - New Group 1938-1954" (Schoonraad) (SA National Gallery, Cape Town) (1988) - ISBN 0 620 12313 3
"Scorched Earth" (100 Years of Southern African Potteries) (Gers) (Jacana) (2015) - pp. 6, 13 - ISBN 978-1-4314-2126-8
"The Women of Olifantsfontein - South African Studio Ceramics" (Hillebrand) (SA National Gallery, Cape Town), pp. 14/15 - ISBN 1-874817-04-09
"100 years of pictorial art in Durban, 1892-1992: from the permanent collection of the Durban Art Gallery" - 1st October to 30th November, 1992, p.16, cat.12
___________________

Eric Byrd's letter to John Steegman, Director of the Montreal Museum of Fine Arts, dated 9th March, 1953
The Gazette, Montreal – 28th February, 1953 - review (PDF)
The Gazette, Montreal – 25th January, 1954
The Star, Montreal – 26th January, 1954
Selected letters sent by Eric Byrd to Hugh Tracey between September, 1965 and July, 1970, from Hugh Tracey's archives at ILAM, Rhodes University, Grahamstown. The last exchange of letters between them was on 18th July, 1975.
Reminiscence of Eric Byrd by Andrew and Heather Tracey - 2012
Prof. Kenneth F. Byrd - brother of Eric Byrd
Note:
Our special thanks for archival material go to:
Prof. Diane Thram, Director, ILAM, Rhodes University, Grahamstown
Andrew and Heather Tracey, Grahamstown
Archives du Musée des Beaux-Arts de Montréal, Canada
The Banff Centre Library and Archives, Banff, Alberta, Canada
Estate of J.B. Taylor, Canada (image of Eric Byrd with colleagues)
Library Archives, Concordia University, Montréal, Canada
http://www.ditsong.org.za/
Registrar, Johannesburg Art Gallery, Johannesburg
Christopher Byrd, Canada
Updated 8th May, 2017