Helen DE LEEUW
Pioneer interior decorator and ceramic artist
1917 – 2006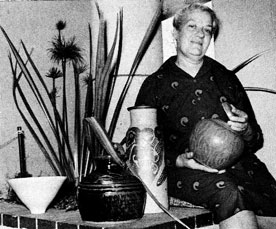 Helen de Leeuw in 1974
illustrated in "Communicat" Johannesburg - November 1974 (© Doug Pithey)
Brief CV
After WW2, she went to England with her daughter Marieke to further her literary studies; however she gave up her PhD course at London University and enrolled at the Camberwell College of Art to become a potter.
Returning to South Africa, she opened a pottery studio. Norman Herber from Greatermans Stores in the Johannesburg city centre offered her an empty basement which he would convert into a temporary studio, complete with kiln, provided she would give public pottery demonstrations there. Helen de Leeuw soon expanded and created The Craftman's Market at 52 von Brandis Street, showcasing as "Helen de Leeuw Gallery" the work of many artists such as Edoardo Villa and students from the Polly Street Art Centre (1954) then run by Cecil Skotnes whom she had met through her brother-in-law, Gideon Uys, former Polly Street art instructor. Johannes Meintjes had an exhibition there in May, 1958, showing 34 paintings. In August, 1958, a show of Margaret Richardson's jewellery was held there, opened by the wife of the Minister Plenipotentiary for Greece at the time.
At about that time Felicity Potter worked for Helen at the Craftman's Market in Greatermans downtown.
From 1960 to 1966 and beyond, Helen de Leeuw operated the Helen de Leeuw Gallery in Pretoria, after 1969 she moved to the new Hyde Park Shopping Centre.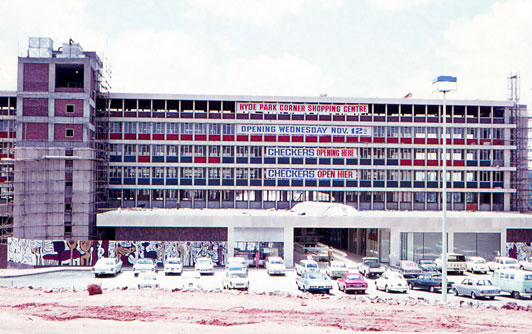 Hyde Park Corner Shopping Centre under construction - Helen de Leeuw moved to this centre, Gallery 101 operated a branch after March 1970; note the Cecil Skotnes sgraffito murals at left which were pulled down many years later! (slide © THF)
Two of her staff members in Hyde Park were Miki Spangenberg and Colin Elias. One of the many exhibitions Helen held there was of ceramic sculptures by Busisiwe Maquabela. There were several group shows, all for the benefit of a worthy cause, such as Operation Hunger, Alexandra Art Centre, the Tim Morris Memorial Exhibition in 1990 to fund the Tim Morris Bursary Fund, a.o.
On 10th November, 1976, the exhibition "Meet the Potters" was opened in the Hyde Park Corner Shopping Centre's Court Yard.
As from 1981, Helen de Leeuw operated also the Carriage House Art Gallery which was run by Karen Lotter. Many exhibitions were held there, such as by Richard Cuttler in 1981, Jack Lugg in 1984.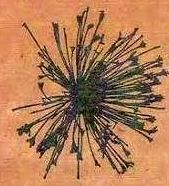 The tumbleweed was Helen de Leeuw's logo and trademark design
Helen travelled extensively abroad collecting material for her new shop in Hyde Park; she also held the Marimekko agency for SA.
After the business went bankrupt in 1996, she went to live with her daughter and family in Glencairn, Cape Town, where she died in July, 2006.
---
Workshop
Ilana Slomowitz ran a workshop at the Keith Kirsten Nursery, Parktown North, Johannesburg, in about 1987. Helen de Leeuw participated in this "Creativity without Boundaries Workshop".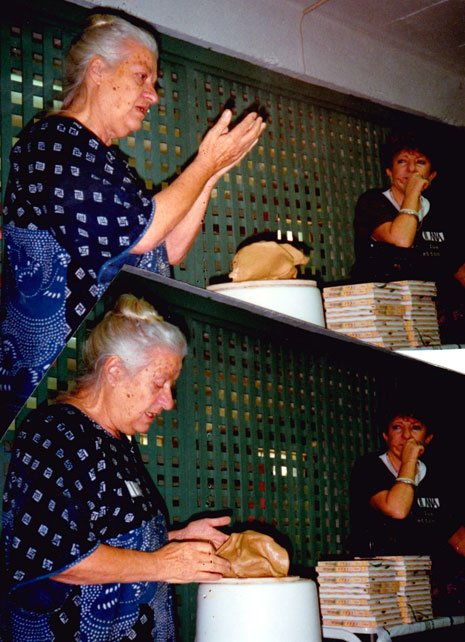 Helen de Leeuw on a workshop run by Ilana Slomowitz (at right) in about 1987.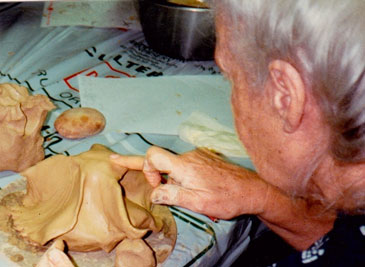 ---
Selected Press References
Communicat, Johannesburg – November, 1974
Beeld, 18th December, 1981 – illustrated
The Star, Johannesburg – 28th October, 1988, illustrated
The Sunday Times, Johannesburg – 23rd July, 2006 – obituary
---
Helen de Leeuw's own writings
"Die ontwikkeling van 'n pottebakker" deur Helen de Leeuw
(South African Panorama, Pretoria - August, 1962 - pp. 21-22, ill. - on Esias Bosch)
---
Source material
Gallery 21 archives
David Schlapobersky + Felicity Potter
Ilana Slomowitz
Miki Spangenberg
Karen Lotter
Chris Barron, Sunday Times
a.o.
"Potters of South Africa" (Clark/Wagner) (Struik) (1974), pp. 13, 17, 97, 122 - ISBN 0 86977 046 2
---
In memory
The Tumbleweed Lady by Miki Spangenberg
a dedication to Helen de Leeuw
---
Helen de Leeuw from the Craftman's Market, Johannesburg
---
Updated 28th February, 2016