Malcolm DE CHAZAL
1902-1981
Gouaches, writings
Malcolm de Chazal
Img.© http://a134.idata.over-blog.com/0/21/80/07/chazal.jpg
Brief C.V.
Malcolm de Chazal (12th September 1902 to 1st October 1981) was a Mauritian writer, painter and visionary, known especially for his Sens-Plastique, a work consisting of several thousand aphorisms and pensées.
He was born in Vacoas of a French family long established in Mauritius and wrote all his works in French. Except for six years at the Louisiana State University, where he received an engineering degree, he spent most of his time in Mauritius where he worked as an agronomist on sugar plantations and later for the Office of Telecommunications.
In 1940 he began to publish in Mauritius a series of volumes consisting of hundreds of numbered thoughts and ideas entitled Pensées. In 1945, a seventh volume of Pensées, bound with another collection of unnumbered aphorisms entitled Sens-Plastique appeared, and two years later a separate Sens-Plastique, Volume II, appeared. It was this latter volume on which the Gallimard edition of 1948 was based that brought Malcolm de Chazal into prominence in France. He was hailed as a surrealist by André Breton. …
Malcolm de Chazal took up painting in the 1950s at the suggestion of Georges Braque. Unlike the speculative aphoristic character of his best-known writings, his paintings concentrated on natural forms and landscapes in a primitive, emblematic style.
Fuller C.V.
http://www.malcolmdechazal.info/index.htm - in English
http://histoireithier.blogspot.ch/2009/08/malcolm-de-chazal.html - in French
Solo Show in South Africa
Gallery 101, Rand Central, Johannesburg – 16th July, 1973
Note: 13 works sold on this exhibition, including "Dodo", "Two Fish", "dans la nuit", "les orchidées", "The bird", "Fish", "la prière de couleurs", "landscape", "bird"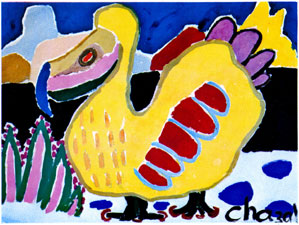 "Dodo Solaire" - gouache
click on image for details!
Note:
This exhibition was enabled through Malcolm de Chazal's one brother Charles de Chazal who lived at that time in Johannesburg, working at the GPO in Jeppe Street and living nearby in a small apartment.
Works sold in South Africa on auction: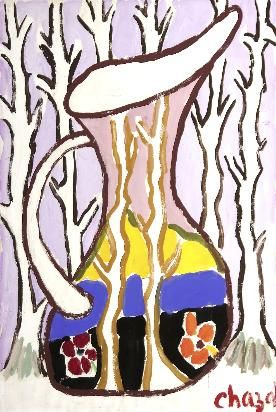 "Flowers in a jug" - gouache - 78x58 cm
Stephan Welz & Co., Johannesburg – 19th April, 2011 – Lot 338
"Poissons deux" + "Papillon" – gouache over pencil on paper – largest meas. 57.5x76 cm
Bernardi Auctioneers, Pretoria – 12th May, 2008 – Lot 602
Work sold by Bonhams London
15th September, 2005 – Auction 12083 – Athenaeum Sale – Lot 275
Many works illustrated on the web

Acknowledgments and further web references
http://mondesfrancophones.com/espaces/afriques/adelaide-russo-et-kumari-issur-a-propos-de-malcolm-de-chazal/
updated 20th September, 2016