Gordon VORSTER
1924 - 1988
Painter, poet, actor, writer and film maker, film director, producer
Gordon Vorster in 1968
(Gordon Vorster in his studio 1968 completing a 8'x4' panel "People superimposed on their environment")
Brief C.V.*
Gordon Vorster was born in Warrenton, near Kimberley, on the 17th of September 1924.

Being a diamond digger, his father led a nomadic life and, through accompanying him on his trips, Gordon got to know the Kalahari and Griqualand at an early stage of his life. He was educated at the Diamantveld Hoërskool in Kimberley and originally intended to become an accountant. During the war he joined the S.A. Air Force and saw service in North Africa and Italy. His experiences in Italy fostered an interest in art which resulted in his decision to study instead, and he did so at the University of the Witwatersrand.

In 1950 he joined the Killarney Film Studios as Art Director where he was involved with many documentary and feature films as a writer, producer and director. He kept to this until 1963 when he decided to stop full-time filming in order to devote all his attention to his paintings. He started exhibiting in 1964 and the enthusiasm of the critics and art collectors encouraged him to take this step.

He built himself a house at the confluence of the Crocodile and Juskei rivers and concentrated on painting . His works now hang in South African art museums and in corporate and private collections in South Africa and overseas.

He was an accomplished actor, and was awarded the 'Oscar' of the Motion Picture Producer's Association for his performance in the film 'Pappa Lap'. He also won two Star Tonight Awards for 'The Story of an African Farm' and 'The Pain'.
Gordon 's first novel, 'The Textures of Silence', won the prestigious Golden Cape prize.

Gordon Vorster working on one of his novels at home (photo © Marianna Christine du Toit archives) - click on image to enlarge!

Gordon Vorster passed away on 9th October 1988 at the age of 64 - his departure was widely reported in the press.
He left a wonderful collection of artworks to the community.

Note*: CV extracted from and duly amended - http://www.hughlendrum.com/
Gordon Frank Vorster's family
Gordon Vorster at home - still from 8mm film (Gallery 101 archives)
The parents of Gordon were Paul Philippus Vorster and Nancy Christina Clack; Gordon had one brother and two sisters.
He married Martha Yvonne van Schalkwyk (1924-1988)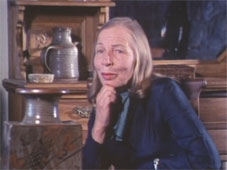 Their children were Marianna Christine Vorster (*1950) (m. E.J. du Toit on 19th May, 1971) and Karen Denise Vorster (m. M.J.F. Penny on 2nd June, 1976)
For more details on the family, search "Vorster.net"

Click on above image to enlarge!
See also the history of this site in Riverside Estates (now part of the Oori Private Nature Reserve)

"Integration of forms", 1963 - oil/board - Coll. Hester Rupert Art Museum, Graaff-Reinet ©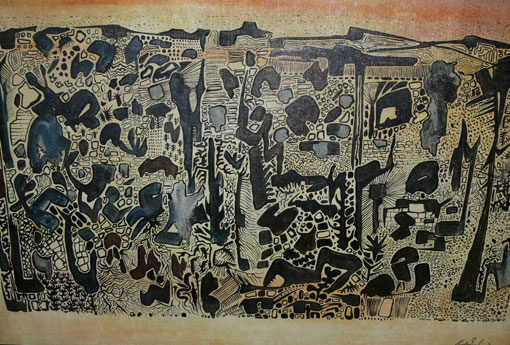 "African Landscape", abt. 1967, oil/board 88x135 cm - dedicated to Yvonne - auctioned by Westgate Walding Auctioneers, Johannesburg, 30th April, 2011, Lot 508 (reproduced in "South African Garden & Homes, August 1979, linked below)
Selected list of exhibitions and collectors
1965 Gallery 101, Johannesburg - 15th February
1968 Gallery 101, Johannesburg - 25th March
1969 Gallery 101, Johannesburg - 8th September
1970 Gallery 101, Johannesburg (Namib/Etoscha) (watercolours) - 4th May
1970 Gallery 101, Johannesburg - 8th September (see PDF for selected collections)
1987 Rand Afrikaans University, Johannesburg "Painter of the Textures of Africa" (21.5.-13.6.87)
A selection of works
(click on image for details)
____________________________
Further 9 images from our archives
Selected archival material
Lantern Pretoria - July/September 1961 Vol. II No. 1, pp. 30/36 (H Jeppe) (ill.) (in Afrikaans)
OUR ART 2 (F.E.S.T., Pretoria), pp. 73/77 (Stein-Lessing) (ill.) (in Afrikaans)
"Art in South Africa - Kuns in Suid-Afrika" (Alexander) (Balkema), 1962 (ill.)
"South African Artists 1900-1962" (Jeppe) (Afrikaanse Pers Boekhandel), 1963, pp. 108, 109 (ill.)
http://www.pelmama.org/PDFs/GordonVorster_Windhoek_1966.pdf
"Daagbreek" Bylaag - 22nd May, 1966, p. 17+28 (Gordon and his children), ill.
"Die Huisgenoot" - 16th May, 1969 (ill. article by Chris Barnard) - PDF 17.7MB
"Personality" 10th March, 1972 (A Master of the Arts) (extensive ill. article by Prieur du Plessis) - PDF 5.6 MB
"The Story of South African Painting" (Berman) (Balkema), 1975, pp. 180/182 (ill.)
"South African Garden & Homes" August 1979, pp. 56/64 ("Paradise in the Veld" - ill. comprehensive article by Rosemary Barrett) - PDF 14MB
"Three Centuries of South African Art" (Fransen) (AD Donker), 1982 (ill.)
"Art & Artists of South Africa" (Berman) (Balkema), 1983, pp. 480/482 (ill.)
"Looking at South African Art" (Harmsen) (van Schaik), 1985
"The Dictionary of South African Painters and Sculptors including Namibia" (Ogilvie / Graff) (Everard Read), 1988 – ISBN 0 620 12663 9 – listed on p. 723, ill. opp. p. 716
"Painting in South Africa" (Berman) (Southern Book Publishers), 1993, pp. 211/13 (ill.)
"ABSA Group Corporate Art Collection 1900-1997" (Loedolff/Basson) (ABSA), 1997, ill. p69

Gordon Vorster in the Etosha Pan area in 1968, ill. in ARTLOOK 26 - 1969 January, p. 9 - please click on image for better view!
Various issues of "ARTLOOK", Johannesburg (search for "Gordon" on this PDF link)
____________________________
"The World of Gordon Vorster" (Esmé Berman, 1979) DVD from a cassette from the series "Men of Merit" issued by the SABC Archives, Johannesburg - see extracts on Youtube
Note:
As announced in ART No. 2, 1988 (Bruce Attwood), a manuscript on Gordon Vorster with images was to be published by Nora Melissakis, but the magazine folded and the manuscript cannot be traced any longer, nor the writer.
Further Links
www.pelmama.org - do an internal search for "Vorster"!
____________________________
Note to intending publishers
Please contact our office in Basel as we have a very comprehensive documentation on Gordon's life which will help!
Last update of this page - 19th December, 2016