René SHAPSHAK
1899 - 1985
Sculptures and paintings, illustrator
---
René Shapshak in 1967
---
Brief C.V.
Born in Paris, studied at the École des Beaux-Arts in Paris, London, Bruxelles, emigrated to South Africa in 1932 or 1934, lived in Johannesburg (47 Saunders Street, Yeoville - where he held art classes for many years), executed numerous commissions, was committee member of the Transvaal Art Society, Johannesburg, 1937; left for the USA in 1954, his wife Eugenie and sons Leon, Maurice and Paul followed in August, 1955, the family staying for years at the famous Chelsea Hotel, with an atelier nearby at 219 7th Ave cor. 23rd St.., New York NY
He exhibited his works at the Chelsea Hotel and his atelier on 4th December, 1967 - see enclosed PDF)
Many honors and awards were bestowed upon René Shapshak, as listed on this link!
Selected art work
Sculptures by René Shapshak exhibited at the United Nations, New York - click on image to view catalogue and list of collections!
Selected publications in South Africa
"South African Art & Artists 1900-1962" (Jeppe) (Afrikaans Pers-Boekhandel), 1963, p. 135
"South African Art" (James Ambrose Brown) (MacDonald South Africa), 1978, p. 32 - ISBN 0-7967-0009-5
"Art & Artists of South Africa" (Berman) (Balkema), 1983, p. 456, 526, 542 - ISBN 0-86961-144-5
"Johannesburg Style Architecture & Society 1880s – 1960s" (Clive M. Chipkin) (David Philip, Cape Town), 1993 – ISBN 0-86486-221-0 text and illustrations on pp. 100/102
"Land and Lives - a story of early black artists" (Elza Miles) (Human & Rousseau), 1997, pp. 56, 93, 95 - ISBN 0-7981-3658-8
Selected international publications
The Canadian Jewish Chronicle – Aug 12, 1960, "Jews have helped to build South Africa"
"Autour de l'art juif: encyclopédie des peintres, photographes et sculpteurs" (Darmon) (Ed. Carnot) (2003), p. 333 - ISBN 2-84855-011-2
Recent auctions in South Africa and abroad
2002 Dargate Auction Galleries, Pittsburgh PA (9th March) (bronze)
2006 Bernardi's Pretoria (August), Lot 544 (painting)
2009 5th Avenue Auctioneers, Johannesburg (November), Lot 57 (monotype)
2011 Christie's South Kensington London (25th January), Lot 690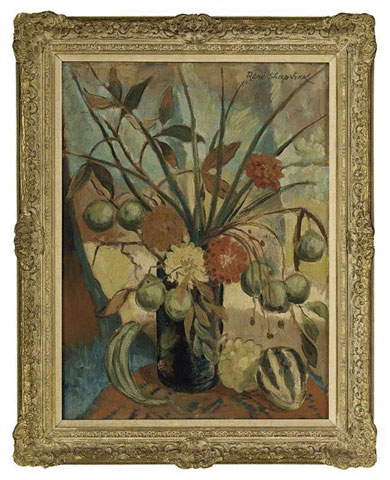 "Still life - assorted flowers with melon and grapes" early work 61.6x45.7cm - Lot 690 - not sold
Bernardi's Auctions, Pretoria - February, 2013 ("Gathered figures", 1950 - monotype 14x23 cm)
Westgate Walding Auctioneers, Johannesburg - 27th November, 2013 - Lot 496
"Windmill in extensive landscape" - watercolour - 36x53cm - Lot 496
Westgate Walding Auctioneers, Johannesburg - 29th April, 2015 - Lot 441
Provenance Auction House, Cape Town - 13th February, 2014 - Lot 21
"New York 10.6.1965" - mixed media on paper - 50x39cm - Lot 21
Russell Kaplan Auctioneers, Johannesburg - 6th December, 2014 - Lot P139 (pastel)
Work recently exhibited in the U.S.A.
Daniel Simhon Fine Art, Charlotte, NC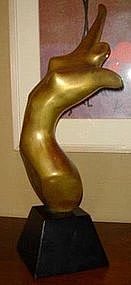 "Female Torso" pre-1950 bronze 32cm H signed
Stevens Fine Art, Phoenix AZ
"Ascension of Elijah" - watercolour 37x55cm signed
Work recently exhibited in South Africa
2006 VGallery 34, Long Street, Cape Town ("Metal" - 7th March - 1st April)
"Mother and child" bronze 24cm H - cast n/a
Some commissions completed in South Africa
Cape Town - Old GPO building - a bas-relief of abt. 50m in marble
Johannesburg - His Majesty's Building, Commissioner Street - panels, friezes
Johannesburg - Broadcast House - Johannesburg - panels
Detail of bas-relief by René Shapshak - Broadcast House Johannesburg - click here for further images!
Detail of aluminium grille work designed by René Shapshak for Broadcast House, Johannesburg, ill. in The SA Architectural Record, October, 1937 (archives http://www.artefacts.co.za/) - click on image for details!
Johannesburg - Loveday House - sand-blasted glass panels in lift lobbies
Johannesburg - Greenside Synagogue
Included in museum collections in South Africa
Johannesburg Art Gallery (woodcut)
Further Research
Smithsonian Archives of American Art, Washington - René Shapshak papers 1946-1974, donated in 1976
Yale University Library - The Virgil Thomson Papers
See also

Kommandant-Generaal Hendrik Potgieter, deur Carel Potgieter en N.H. Theunissen; met tekenings deur René Shapshak (Afrikaanse Pers), 1938
The Star, Johannesburg (report on award of "Academic Palm for sculptures and relief murals" by the International Institute of Washington) - 15th May, 1979
"Shapshak: a rich legacy" by Percy Baneshik in the Sunday Star, Johannesburg - 27th April, 1986
Further references in "Bibliografie: Suid-Afrikaanse Kunstenaars" (Nilant/Schoonraad) (University of Pretoria), 1976
Who's Who in American Art, 1973 a.o.
Note
René Shapshak exhibited with the South African Academy in 1932, 1934, 1937. We could not yet establish if and where René Shapshak exhibited his works in galleries or elsewhere in South Africa prior to 1954, except that he was in contact with Gallery 101, Johannesburg until 1968, which gallery most likely had some works of his in stock from private owners.
We also need further feed-back and photographs as to his various public commissions in South Africa which he did before 1954.
Updated 25th April, 2015