Paul SEKETE
1957*
Sculptures and Paintings
---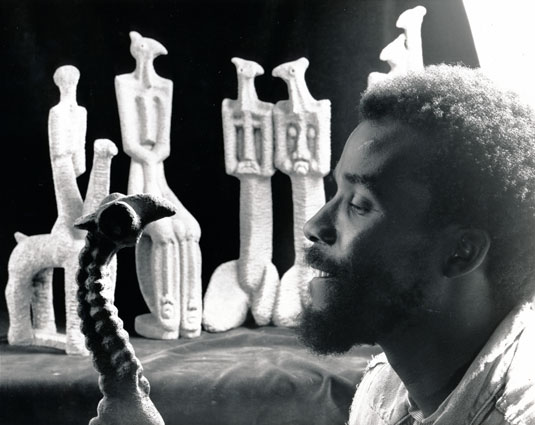 Paul SEKETE in 1990 reflecting on his sculptures
---
Brief C.V.
Nako Paulus Sekete was born on 2nd August, 1957, at Ficksburg in the Orange Free State, South Africa. After his schooling, he worked as a miner for a year prior to joining the Katlehong Art Centre near Johannesburg.
A self-trained artist, working both as a sculptor and as a painter, Paul Sekete participated in numerous group exhibitions, mostly organised by the Katlehong Art Centre as from 1984, in South Africa, Namibia and the USA.
His first solo exhibition of sculptures was held at Gallery 21 in Johannesburg in 1990, showing 19 sculptures in terracotta and bronze, cast and produced in the Studio of Guy du Toit, Pretoria, in an edition of 10 + 1 A/Proof, of which only very few were actually cast (see record kept by The Haenggi Foundation Inc., Basel)
Other media include wood, linocut, woodcut, oil and acrylic.
Around 1995, Paul Sekete lived at 227 Zone 4, Meqheleng, Ficksburg. There he owned an undeveloped business stand, Erf 1717, Meqheleng, meas. 1684 m2.
In 1999, he left Johannesburg for Cape Town, dividing his time between the Cape and Ficksburg.
---
Description of his work
Paul Sekete uses distortion, elongation and disproportionate scale to describe the human form and he combines these with well-defined linear shapes.
---
Selected EXHIBITIONS during the 1990s
| | |
| --- | --- |
| 1990 | Gallery 21, Johannesburg – 1st Solo show "The return from exile" (29th May/16th June) (19 sculptures) – parallel to an exhibition of 16 graphics and paintings by Lallitha Jawahirilal |
| 1991 | Group exhibition, Everard Read Gallery, Johannesburg, "Town and Country" |
| 1991 | Gallery 21, Johannesburg "Summer Fever" (1st February) |
| 1995 | Three-man Exhibition with Peter Sibeko and Winston Saoli |
| 1996 | Galerie Rosengarten, Thun, Switzerland ("Kreuz + Quer" / "Criss + Cross") (Group Show) (July/August) |
| 1997 | Artimex Fine Arts, Basel, Switzerland (Group Show) ("Süd-Afrika: Zeitgenössische Kunst"(May/July) |
| 1998 | Artimex Fine Arts, Basel, Switzerland (Group Show) ("Eine Gegenüberstellung: Südafrika je nachdem …" (March) |
Selected Later Exhibitions
| | |
| --- | --- |
| 2004 | The Gallery at KGS II, 18-24 Parkway, Katonah (owned by Elizabeth Larkin): 'Africa Tales Told: The Creation Myth And Beyond' (December) – Group Show |
| 2009 | Everard Gallery, Cape Town "Manifesto" (jointly with Ricky Dyaloyi) (August/September) |
---
Sculptures on the 1990 solo show at Gallery 21 - a selection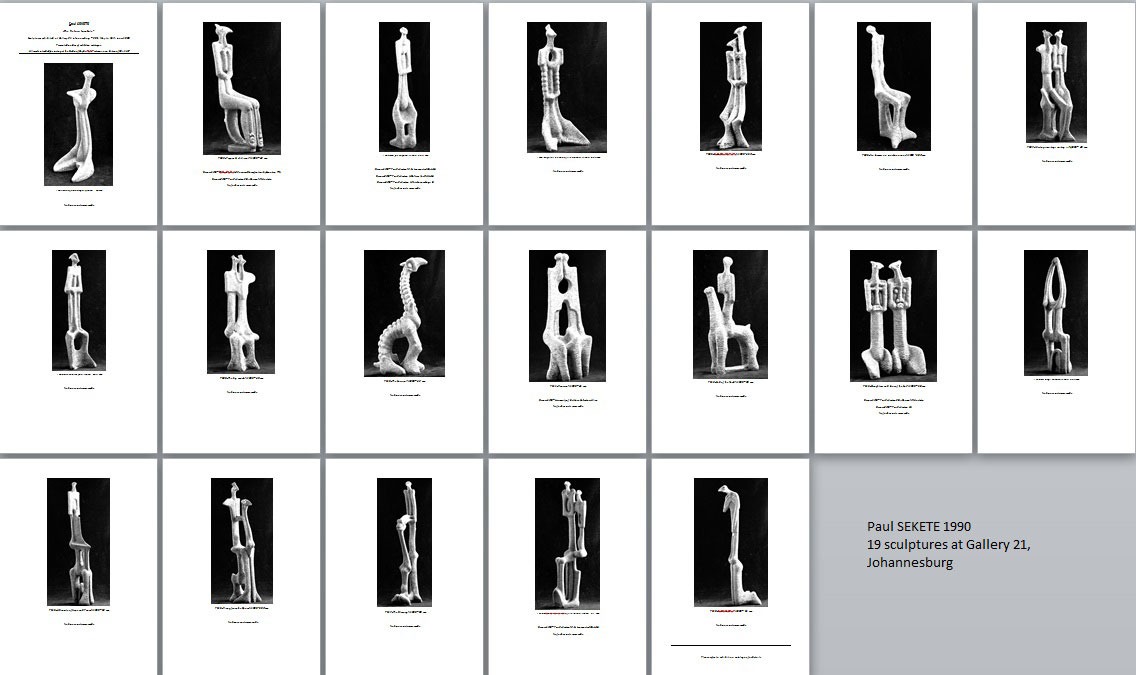 Click on image for details!
---
Selected Reviews and Press Notices – Sculptures
The Star, Johannesburg – 5th June, 1990, illustrated
The Star, Johannesburg – 6th June, 1990 – preview
Financial Mail, Johannesburg – 8th June, 1990
City Press, Johannesburg "Statuettes echo Bushman legacy" – 10th June, 1990, illustrated - with the artist mentioning what influenced him in his younger days
Review in Die Beeld, Johannesburg – 14th June, 1990:
Paul Sekete se beelde is gestileerde verwerkings van 'n deurlopende beeld wat 'n kombinasie van 'n mens en 'n voël is. Die tema van The Return from Exile en die name van die werke (Pepper and Chilli seat, The Survival, A Long Promise, Advocate of Hope and Peace) word in die uitgestrekte silhoeët weerspieël. Die kleifigure is fyn afgewerk en dra die tema eerder in die houding en die gebarespel, as die spontane uitbeelding van 'n ekspressionis. Die liniêre kwaliteit het 'n kontinuiteit wardeur die
figuur met sy omgewing verbind word. Pepper and Chilli Seat is 'n mensfiguur wat sit op 'n stoel wat gevorm is uit sy voete - 'n deurlopende lyn wat 'n stoel vorm. Die kop dra die bek en oë van 'n
voël maar die onderbene is verwerk tot maskers - 'n mensetroon. Die beelde sal in brons gegiet word na dit aangekoop is. Sekete is 'n produk van die Kathlehong Kunssentrum.
Northcliff Melville Times, Johannesburg – 15th August, 1989 (advert)
---
Selected Reviews - Paintings
Paul Sekete, an artist who is characterized by the gallery's director, Elizabeth Larkin, as a Rastafarian who lives for his art, offers subtle paintings of puzzling narratives filled with references to daily life, ritual and customs.
Review of Paul Sekete's paintings in the New York Times 5th December, 2004
---
Sculptures in Public Collections
Oliewenhuis Art Museum, Bloemfontein
"Pepper & chilli seat", 1960 - bronze 1/10 - 40x18x12 cm - Register PS2 - two views
University of Fort Hare, Alice

"Reunion", 1990 – bronze ed. 1/10 – 40.5cm H – Register PS11
---
Sculptures in Private Collections
Paul Sekete is included in various private collections in Australia, South Africa, Switzerland and the USA.
---
List of sculptures and bronzes from the 1990 exhibition at Gallery 21, Johannesburg
Exhibition catalogue + List of sculptures and bronze casts made
---
Sculptures sold on auction

"Rearranged form" – bronze 5/5 – 30.5cm H – on auction Stephan Welz & Co., Johannesburg – 24th August, 2012 – Lot 548
---
Paul Sekete – the painter
Selected paintings offered by Everard Read Gallery, Cape Town - 2005 to 2009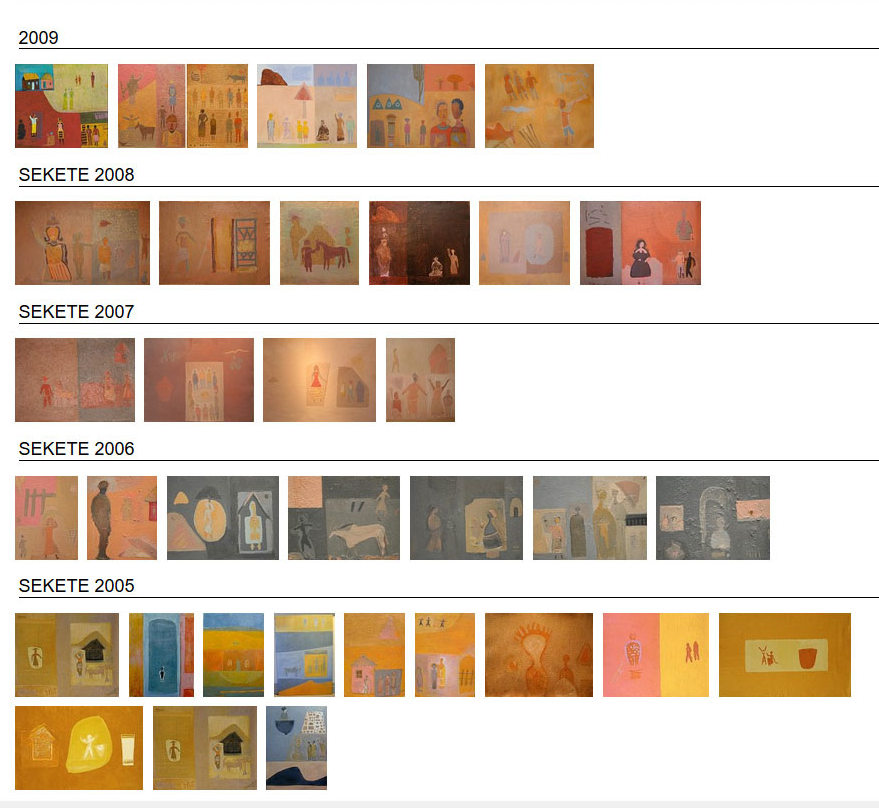 ---
Bibliography
"Images of Man – Contemporary S.A. Black Art and Artists" (E. de Jager) (University of Fort Hare Press), 1992, ill. p 143, cat 160 – ISBN 1-86810-015-4
"A Donation from the PELMAMA Permanent Art Collection" - Oliewenhuis Art Museum, Bloemfontein - 2007, p7, cat. 226
"Printmaking in a transforming South Africa" (Hobbs/Rankin) (David Philip Publ.), 1997, listed p. 135 - ISBN 0-86486-334-9
Original Web Reference for "Pepper & chilli seat" - PS2
---
Uploaded on 23rd August, 2016