POLOKWANE ART MUSEUM
POLOKWANE / PIETERSBURG
a brief reference
---
Entrance to the Polokwane Art Museum and City Library in the Danie Hough Cultural Centre (images © Google StreetView)
---
Interior view of Polokwane Art Museum in 2002 - Hannatjie van der Wat's Modular Mobile at front left (img.© H. van der Wat)
Another view of exhibition space
---
The beginnings
How it all began is told by Esmé Berman in "Art & Artists of South Africa" (Balkema, 1983), on p. 333 (PDF)
Partial list of artists Jack Botes had approached for works per 3rd March, 1975 (PDF)
---
The Collection
The Polokwane Art Museum's Collection includes over 1200 art works, by inter alia:
Ines AAB-TAMSEN, Stephen ANDOR, Raymond ANDREWS, Wendy ANZISKA, Kevin ATKINSON,
Kenneth BAKKER, Armando BALDINELLI, John BALOYI, Wim BLOM, George BOYS, Brian BRADSHAW, Carl BÜCHNER, Barbara BURRY, Nils BURWITZ,
Nina CAMPBELL-QUINE, Thelma CHAIT, Richard CHEALES, Bettie CILLIERS-BARNARD, Pieter J COETZEE, Trevor COLEMAN, Daniel COOK, Maria Paula COOPMANS, Wilma CRUISE, Edin CURRIE-WOOD,
Danie DE JAGER, Gerard DE LEEUW, J.J. (Koos) DEN HOUTING, Mark DIXON, Jean DOYLE, Lola DUNSTAN, Gavin DU PLESSIS,
Alice ELAHI, Nel ERASMUS, Eleanor ESMONDE-WHITE,
Fleur FERRI, Dick FINDLAY, Cyril FRADAN,
Eben GERMISHUYS, Sidney GOLDBLATT, Vic GUHRS,
Mary HENDRY, Irmin HENKEL, Bernhard HESSELBARTH, Jackson HLUNGWANE, Noel HODNETT,
Karin JAROSZYNSKA, Tadeusz JAROSZYNSKI, Adolph JENTSCH, Simon JONES,
Maurice KAHN, William KENTRIDGE, Alfred KRENZ, Braam KRUGER,
Eduard LADAN, Eben LEIBBRANDT, Renée LE ROUX, Aileen LIPKIN, Hannah LURIE,
Noria MABASA, Azaria MBATHA, Dirk MEERKOTTER, Berenice MICHELOW, Ralph MILLER, Samson MUDZUNGA, Nelson MUKHUBA,
Peter NEL, Thijs NEL, Josua NELL,
Patrick O'CONNOR, Charlotte OESTERLEIN, Meta ORTON,
Georgie PAPAGEORGE, Michael PETTIT, J.H. PIERNEEF, Alexander PODLASHUC, Hennie POTGIETER, Jean POWELL, Tinie PRITCHARD,
Ian REDELINGHUYS, François ROUX, Edward ROWORTH,
Cecily SASH, Erica SCHOEMAN, Johannes SEGOGELA, Stella SHAWZIN, Robert SLINGSBY, Chris SPIES, Helmut STARCKE,
June TE WATER, Guilaume THERON, Leo THERON, Conrad THEYS, Douglas TREASURE,
Ernest ULLMANN,
Peter VAN BLOMMESTEIN, Caroline VAN DER MERWE, Justinus VAN DER MERWE, Gunther VAN DER REIS, Hannatjie VAN DER WAT, Johan VAN HEERDEN, Nico RENSBURG, Minette VAN ROOYEN, Andrew VERSTER, Edoardo VILLA, Gordon VORSTER
Stephanie WATSON, Jean WELZ, Walter WESTBROOK, Sue WILLIAMSON,
and many more, as publicly recorded, including "The Dictionary of South African Painters and Sculptors" (Ogilvie) (Read), 1988 - ISBN 0 620 12663 9
---
"The Reader" by Danie de Jager
Part of the Polokwane Art Collection is spread throughout the city
Gerard de Leeuw "Witch doctor with impundulu" bronze 91cm H
Note: please help us to identify the artists and titles of the works illustrated above!
Copyright references for these images are recorded on image data!.
---
Industrial Art Park
The Polokwane Art Museum curates 15 works of art in an open-air park. These monumental works, some of which measure several metres in height are, on permanent display at the park on the corner of Landdros Mare and Potgieter Avenues in Polokwane. These works were created by artists like Justinus van der Merve, Gunther van der Reis, Helmuth Stauch, Hannatjie van der Wat, Ian Redelinghuys, Nico Verboom, Danie de Jager and Guilaume Theron.
The Industrial Art Park and the City of Polokwane can rightfully boast that this park is the only one of its kind in Africa.
Huge construction in concrete by Danie de Jager, 1977 (img.©SAHA AL3282) - ill. in "Kuns in die ope", Bylae tot Beeld, 16. April 1977, p. 6+7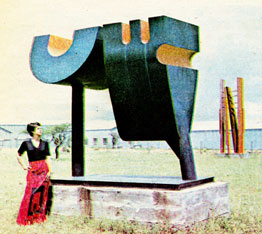 Sculptures by Justinus van der Merwe (front) and Eben Leibbrandt (back), ill. in "Kuns in die ope", Bylae tot Beeld, 16. April 1977, p. 6+7
Hannatjie van der Wat "Abstract I, Homage to Pythagoras", 1978 - painted steel - 6m H, ill. in "Hannatjie van der Wat - In Retro" (van Zyl) (SMAC), 2013, p. 115 - ISBN 978-0-620-56637-7
---
Reasons for putting up this page
Over the years, there have been a number of important documented exhibitions held at the Pietersburg / Polokwane Art Museum. This is a small contribution to making the Collection better known to the outside world as the Polokwane Municipality or the Museum's Curator do not provide updates on their website.
Curators
Until 1992, Jack Botes, Town Clerk of then Pietersburg, remained in full control of the Collection as no full-time curator had as yet been appointed. In 1992, Mrs S de Jager was the museum's first curator. From May 1996 to June, 2005, the Museum's Curator was Frans Roodt, since 2008 the Head Curator is Mokgabudi Amos Letsoalo.
---
Note: We would appreciate any images you may have of the museum's art works or past events held at the Polokwane Art Museum - please contact us on this address!
---
Last updated: 19th January, 2016