Stanley Bongani NKOSI
1945 - 1988
Sculptures in terracotta, bronze and drawings
---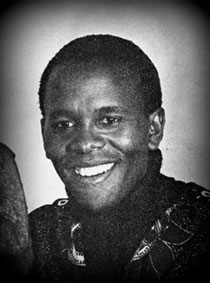 Stanley NKOSI in 1972
Brief C.V.
Stanley Bongani Nkosi (popularly known as Mfoza) was born on 25 November 1945 in Newcastle, Natal, the youngest of Eliakim and Belinah Nkosi's eight children. When he was three years old his family moved to Dukathole near Germiston in the Transvaal. He attended school in Germiston and Manzini, Swaziland and completed his education in Newcastle, obtaining his Junior Certificate.
After he moved to Katlehong in 1962, he worked briefly in 1973 at the Artlite factory, decorating lamp bases. A chance meeting with Linda Goodman got him to join part-time the art school run by Peter Haden, working during the day as a messenger. He also took a few lessons with Cecil Skotnes. Later that year, he became a full-time artist.
As a result of his London exhibition in April 1974 being shown on British TV he met the former British Prime Minister Harold Macmillan who acquired two of his pieces. This lead to further press coverage and sales, including to Diana Ross. Stanley Nkosi attended the London School of Art for a few months.
In 1974, he won the annual "Young and Promising British Artists Competition" in Bournemouth, UK. During that year, he also travelled to New York and Canada.
In 1978, Stanley Nkosi travelled to the USA, holding an exhibition at Atlanta GA, as a result of winning an art competition in Oklahoma.
In 1979, he won the the 1st prize in the "Wildlife of the World Competition", Oklahoma.
Early 1980, he showed at the Black Heritage Exhibition held at the University of Nebraska in Omaha, USA, where he was awarded "Best Artist Trophy" and presided over art classes at the Jewish Community Centre in Omaha, as a result of which he appeared on television several times.
In 1981 he again visited the USA at the invitation of the University of Nebraska at Omaha.
He was instrumental in the creation of the Katlehong Art Society.
In 1981 Stanley Nkosi built his own Art Galley and studio onto his house at Katlehong near Germiston, the "Stanley Nkosi Art Gallery" which was officially opened on 26th October, 1982 by the then Administrator of the Transvaal.
Stanley Nkosi was married to Mabel; they had 3 girls, Samantha, Dudu and Pindile.
In early December, 1988, Stanley Nkosi was stabbed to death at Katlehong.
Selected solo exhibitions
1970 Machiel Hopman Gallery, Glenhazel, Johannesburg
1972 Gallery 21, Hyde Park Corner, Johannesburg (2nd to 15th September)

click on image to view full catalogue!
1974 Schweickerdt Gallery, Pretoria
1974 Ansdell Gallery, London (31 drawings + 8 terracotta sculptures) (19th - 30th August)
1978 Trevor Coleman Gallery, Johannesburg (October)
1978 Atlanta GA, USA
1980 University of Nebraska, USA
Selected group exhibitions
1972 Gallery 101, Hollard Street, Johannesburg "Second Exhibition of Transvaal Sculptors" (2nd February)
1972 Gallery 101, Johannesburg "25 African Artists" (12th April)
1972 Gallery 21 (Hyde Park) Johannesburg "Selection '72" (28 artists) (7th October)
1974 Gallery International, Cape Town (Summer Exhibition)
1974 University of Fort Hare, Alice
1975 Gallery 21 London - "African Art from South Africa" (19th February)
1975 University of Fort Hare, Alice
1975 SA Association of Arts, Pretoria (The Animal in Art)
1976 Gallery International, Cape Town
1976 Gallery 21 (Hyde Park) Johannesburg (Summer Madness) (8th January)
1977 Gallery 21 Fox Street Johannesburg (branch opening exhibition) (21st March)
1977 Hoffer Art Gallery, Pretoria
1978 Gallery 21 Johannesburg "A collector's choice" (29th May)
1978 St. Alban's College, Pretoria
1979 Katlehong Art Association, 7th annual exhibition, Germiston
1979 "Contemporary African Art in South Africa" (works from the UFH Collection touring four major centres in South Africa: RAU Johannesburg, the Pretoria Art Museum, the University of the O.F.S., Bloemfontein and the William Humphreys Art Gallery, Kimberley
1979 SA Association of Arts, Carlton, Johannesburg - "Renaissance II" (5th December)
1981 The Haenggi Foundation's gallery, Fox Street, Johannesburg "South Africa Now" a national juried art competition (12th July)
1981 Standard Bank, Soweto "Black Art Today", arranged by the Soweto Council
1982 Gallery 21, Johannesburg "Selection '82"
1982 University of Fort Hare, Alice - Malan Museum (August)
1986 Alliance Française, Pretoria ("Historical Perspective of Black Art 1930-1986")
1988 Johannesburg Art Gallery, Johannesburg (The Neglected Tradition: Towards a New History of South African Art (1930-1988))
Sculptures in bronze
A Register was kept by Gallery 21, Johannesburg of authorized intended casts and of casts actually made. Most bronze casts were made and finished off by Renzo Vignali, Pretoria North, in 1973 and 1974. Edition numbers were embossed by Gallery 21 at the base or in the bronze.
A few bronze casts were made by the "de Jager Foundry". They kept the moulds for 3 months only, stating on 22nd January, 1974, that as clay was very brittle, they had to make special moulds.
Stanley Nkosi's clay figures were fired by Corobrick Germiston and in 1974 by Lieberman Pottery, Johannesburg.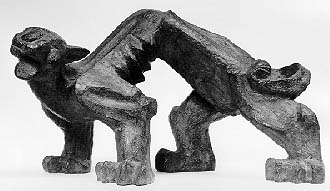 "Beginning of the end", 1972 - terracotta (only 4 authorised casts of ed. of 6 were made)
Click on this link to view an extract of the Register of authorized bronze casts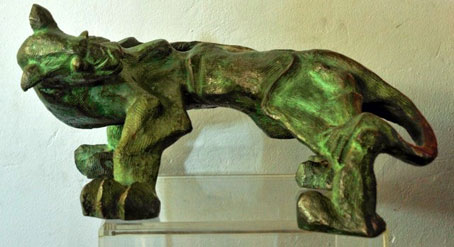 "Lynx" bronze ed. 3/6
Note
Casts were made posthumously by Jean Doyle, Cape Town, on behalf of Zoltan Borbereki, owner of a few terra cottas from Stanley Nkosi - no written copyright permission from the Nkosi Estate could be found (information per footnote 15 on p. 35 of "Images of Metal" (Rankin) (WUP) 1994); no list of such casts is available.
Selected reviews
1972 ARTLOOK 71, Johannesburg - Vol. 5 No. 10, October, p. 23, ill.
1972 BANTU, Pretoria - December, Vol. XIX No 12, pp. 16/18, ill.
1973 ARTLOOK 75, Johannesburg - Vol. 6 No. 2, February, p. 17, ill.
1973 Rand Daily Mail, Johannesburg - undated, ill.
1974 BANTU, Pretoria - August, ill.
1974 Rand Daily Mail, Johannesburg - 13th August, ill.
1974 The World, Johannesburg - 23rd August, pp. 22, ill.
1974 Rand Daily Mail, Johannesburg - 26th August
1974 The Star, Johannesburg - 20th November, ill.
1978 The Citizen, Johannesburg - 27th October, ill.
1979 SA Digest, Pretoria - 9th February, pp. 14/15, ill.
1979 SA Panorama, Pretoria (April), p. 34, ill.
1979 Post, Johannesburg - 28th November, interviewed by Elliot Makhaya
1981 Eastern Express, Johannesburg - 6th March, p. 11, ill.
1981 Rand Daily Mail, Johannesburg - 27th August, p.21, ill.
1982 BONA, Johannesburg, March, pp. 154-6, 158, 160, ill.
1988 Sowetan Johannesburg - 8th December, p. 2, ill.
1988 Sowetan, Johannesburg - 9th December, p. 30, ill.
Bibliography
1973 "African Art in South Africa" (Struik) (EJ de Jager)
1976 Source Guide for Art and Architecture, 1971, Pretoria
1976 Sudafrica, Rome (1/1976)
1979 "Contemporary African Art in South Africa" touring exhibition cat., ill. 5
1979/82 "The Black Who's Who of Southern Africa Today" (African Business Publications, Johannesburg) (Sheila Kebble)
1983 "Art & Artists of South Africa" (Berman) (Balkema) pp. 64, 193 - ISBN 0-86961-144-5
1987 "Echoes of African Art" (Manaka) (Skotaville), p. 33 - ISBN 0-947009-10-8
1988 "The Neglected Tradition: Towards a New History of South African Art (1930-1988)" (Sack) (JAG), p. 121, cat. 135, ill. - ISBN 0-620-13184-5
"The Dictionary of South African Painters and Sculptors including Namibia" (Ogilvie / Graff) (Everard Read), 1988 – ISBN 0 620 12663 9 – listed on p. 487
1992 "Images of Man" (de Jager) (University of Fort Hare Press), pp. 125-128, ill. cat. 138-10 - ISBN 1-86810-015-4
1994 "Images of Metal" (Rankin) (Witwatersrand University Press), p. 35 - ISBN 1-86814-257-4
1997 "Printmaking in a transforming South Africa" (Hobbs/Rankin) (David Philip Publ.), p. 134 - ISBN 0-86486-334-9
2007 Oliewenhuis Art Museum, Bloemfontein - catalogue "a donation from the PELMAMA Permanent Art Collection", cat. no. 295
Public Collections
SA National Gallery, Cape Town - PELMAMA PERMANENT ART COLLECTION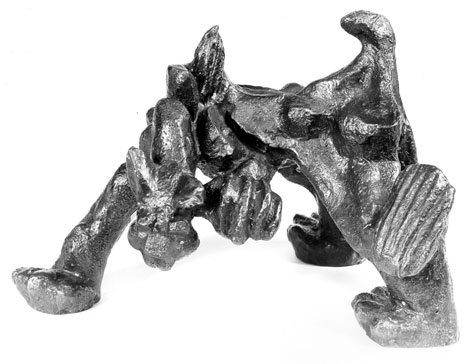 "Itchy", 1973 - bronze 2/6 - 22.5x34x25 cm
Oliewenhuis Art Museum, Bloemfontein - PELMAMA PERMANENT ART COLLECTION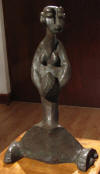 "Praying", 1973 - bronze 1/6 - 55x35.5x17 cm
University of Fort Hare, Alice
(various works - see ISBN 1-86810-015-4)
Corporate Collections
SANLAM, Bellville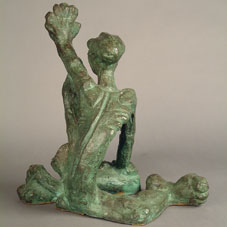 "After the Show", 1973 - bronze - ed. 2/6 - meas. n/a
Updated 19th June, 2014