Wilhelm HELMSTEDT
1904 - 1976
Paintings - watercolours - gouaches - woodcuts
---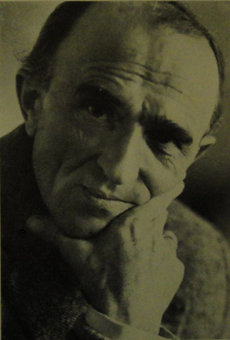 Wilhelm Helmstedt in 1962
---
Brief C.V.
WILHELM Peter August HELMSTEDT was born 3rd September, 1904, in Wilhelmshaven, East Friesland, Lower Saxony. In 1924, he moved to Berlin Charlottenburg. After marrying Felizitas Edith Wazinsky in abt. 1926, they moved to Berlin Spandau in 1932; they had 3 sons - Achim, Wolfgang and Jurgen.
Wilhelm Helmstedt attended painting and drawing classes at the private art school Neuhaus, receiving his main input regarding artistic forms and basic composition from K. Behling and K. Sommerfeld, later from Schröder and Wildermann in respect of stage design / scenography, alternating between crafts and fine art painting. He met the Expressionist painters of the time.
In 1924, he was exposed to important movements in museums, the theatre and concerts. As from 1926, Wilhelm Helmstedt was active as a painter, atelier manager and stage designer at various theatres in and outside Berlin - one of his students in this field was Gerhard Schorsch (*1939).
He did the stage sets at the Stadttheater Lübeck during November, 1927; during January to May, 1930, Wilhelm Helmstedt was Head of Stage Design at the Landestheater Schneidemühl.
As from 1932, Wilhelm Helmstedt became a professional painter, he did many sketches for newspapers, portraits, illustrations and was active in theatre and film work, working for U.F.A. (Universum Film), Berlin, until 1939, when he was conscripted to the army.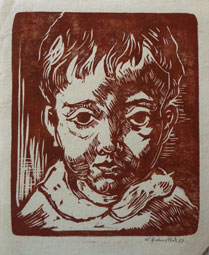 Wilhelm Helmstedt "Child's head", 1937 - woodcut in sepia (click on image to view 9 early works!)
From 1941 to 1949 he served in Poland, France, Yugoslavia and under Gen. Paulus he fought in Stalingrad, where he was taken prisoner. After his release in 1950, he returned to Spandau to carry on as fine arts painter.
As from 1952, Wilhelm Helmstedt was a lecturer at the Volkshochschule Spandau. He collaborated in TV, film and theatre productions, sometimes at the Schlosspark-Theater, Steglitz, Berlin.
He is also mentioned as a sculptor in his earlier days.
Exhibitions curated included Bezirksamt Berlin and in Montreal, Canada.
His own work he showed in solo or group shows in Berlin: Galerie Schüler, Galerie Springer ("Gouachen 1954"), Haus am Waldsee, Kunstamt Spandau, also in Bremen, Darmstadt, Ludwigshafen and others, Johannesburg, Pretoria and Cape Town in South Africa.
In Berlin, Wilhelm Helmstedt gave private lessons to his students including Hannelore Buschkötter (*1923); during the early to mid-1950s, Helmstedt offered painting courses at the Volkshochschule Spandau VHS, Berlin - Marianne Drefs (*1941) and Wolfgang G. Farin (*1935) attended his courses (quod vide). There he also lectured on "Contemporary Art".
In May, 1951 or 1952, his watercolour "Abend über Tiefwerder" was included in an exhibition at the Spandauer Heimatmuseum.
In 1955, one year after his show at Galerie Springer, he moved to South Africa to join family who had preceded him by 3 years, retaining his apartment at B20, Franzstrassse 40, Spandau-Berlin, until 1975.
Wilhelm Helmstedt often travelled to Europe; he showed his works on several occasions in Johannesburg until May, 1962, leaving South Africa definitely on 4th June, 1962, for Spandau-Berlin.
During six months in 1961/1962 he travelled 6'000 miles throughout South Africa recording for the first time his impressions of the South African landscape, shown at Whippman's Gallery, Johannesburg in May, 1962.
He was a member of the Verein Berliner Künstler from 1961 to 1970 and is listed in the "Mitgliederverzeichnis VBK: Wilhelm Helmstedt 1904-1976 on p. 197
Shortly before reaching his 70th birthday, he had a retrospective show of oil paintings and woodcuts at the Galerie des Vereins Berliner Künstler.
Wilhelm Helmstedt died on 10th March, 1976 in Berlin.
---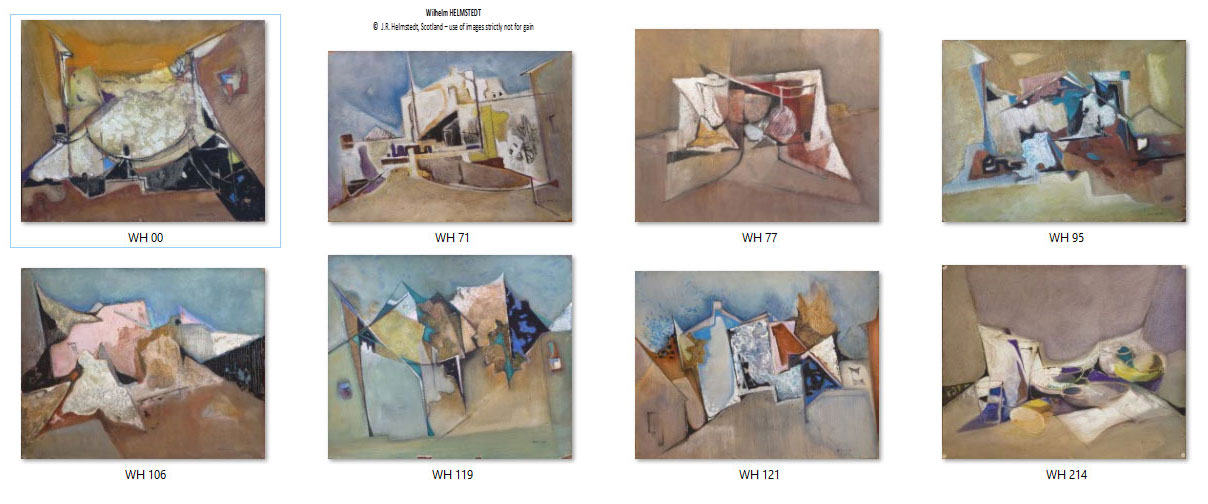 Print screen of selected watercolours and gouaches by Wilhelm Helmstedt - please click on image for details!
---
Selected Exhibitions in South Africa and Germany
1954 Galerie Rudolf Springer, Berlin (gouaches)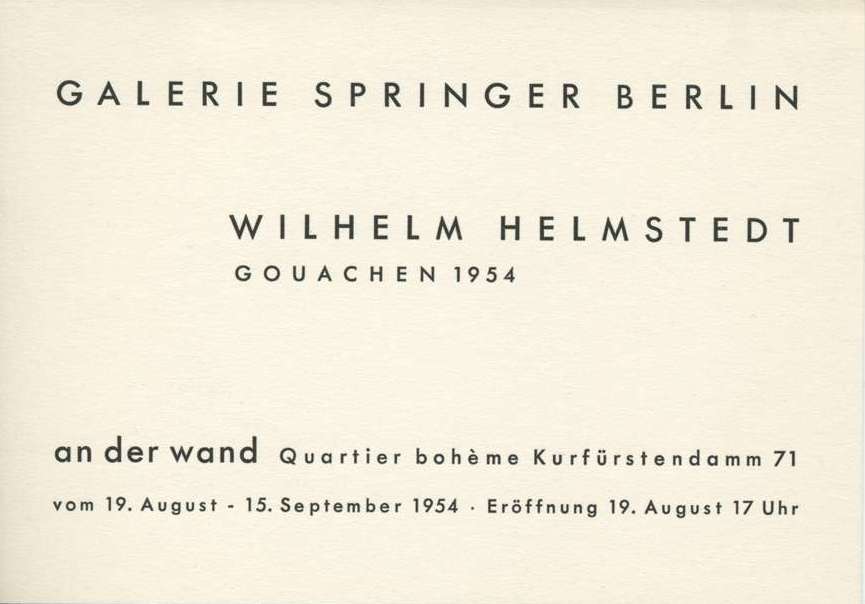 Click on image for more details and review in unknown Berlin newspaper "Melancholische Malerei"
1955 – 1961 Whippman's Gallery, Johannesburg (showing works from Europe), including:
1955 Whippman's Gallery, Johannesburg (review "German artist's lovely gouaches" )
1956 Whippman's Gallery, Johannesburg - 22nd May, 1957 - opened by Ernest Ullmann
1957 Whippman's Gallery, Johannesburg - 16th to 26th October, 1957 (Paintings and Drawings) (Second South African Exhibition)
1960 Whippman's Gallery, Johannesburg - 14th September, 1960 - opened by Cecil Skotnes
1961 Whippman's Gallery, Johannesburg - 7th March, 1961 - The Paul de Jongh Collection of 78 works (including 2 by Wilhelm Helmstedt)
Works done in South Africa during 1961 to 1962 were shown in:
1962 Whippman's Gallery, Johannesburg - 2nd May, 1962 - opened by Ernest Ullmann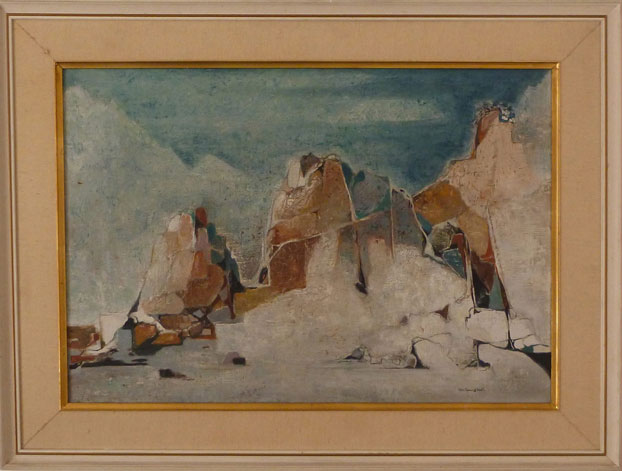 The Sentinel, oil/board - illustrated on invitation card from 1962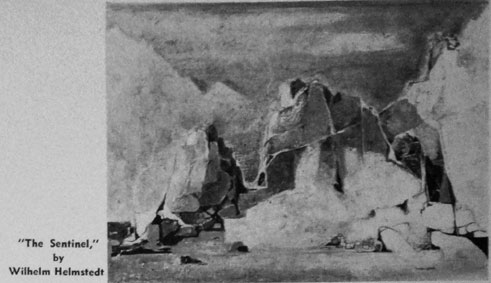 Please click on images for better view!
"The Sentinel" by Wilhelm Helmstedt was exhibited at Whippman's Gallery, Johannesburg, 1962, when he also showed for the first time his South African paintings including "Karoo", "Scottburgh", "Lion's Head", "Near St. Johns"
1967 Rathaus Spandau - included in 3-man show of Spandau artists with woodcuts, drawings, sketches and paintings (April)
1969 Lidchi Gallery, Johannesburg (review)
1974 Galerie Verein Berliner Künstler (11th January to 10th February) - Malerei und Holzschnitte (invitation card) (selected works photographed)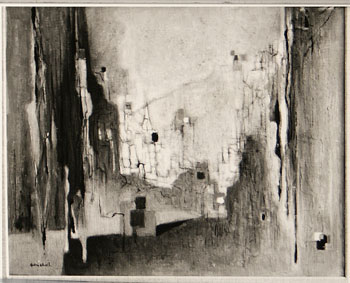 "Aus Portugal" - exhibited in Berlin on solo show from January to February, 1974 - please click on image for details)
1974 Galerie des Vereins Berliner Künstler, Berlin - Frühjahrs-Ausstellung (30th March to 5th May) - included with one oil "Abendlich" 50x40cm, ill. in exhibition cat.
---
Selected works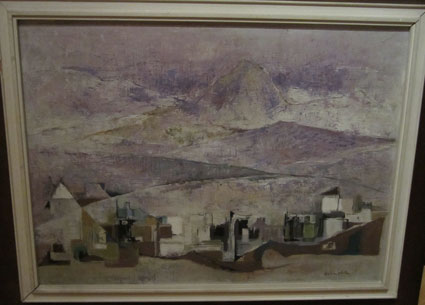 Wilhelm Helmstedt - Untitled oil on wood from abt. 1975 - 55x70 cm - Private Coll., Berlin
Many works are included in private collections in Germany and over 80 in South Africa.
Two works in a private collection in the U.K.: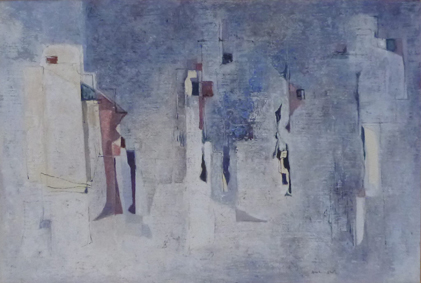 ---
Selected works from the Wilhelm Helmstedt family archives
in South Africa and Scotland
Recorded with the artist's work number - 17 works (watercolours, gouache, mixed media) - click here for PDF
"Spandau Altstadt im Winter" - watercolour - WH 322 (© J.R. Helmstedt)
Artist's work number not known - 7 works (watercolours, gouache, mixed media, oils) - click here for PDF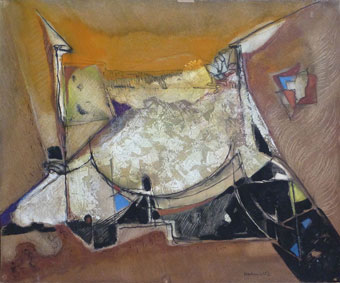 "Der Bootshafen" - gouache - exhibited at Galerie Schüler, Berlin (© J.R. Helmstedt)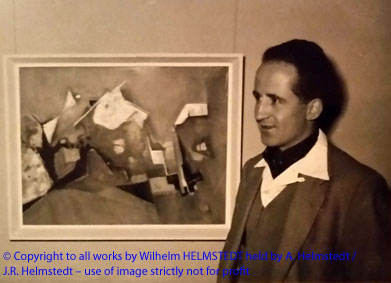 Achim Helmstedt, the eldest son of Wilhelm Helmstedt, with one of Wilhelm's works
---
Selected works in Public Collections
Kunstsammlung Bezirksamt Spandau - Berlin (2 works)
---
Signature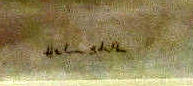 "Helmstedt"
signature from oil on board on auction in Berlin in February, 2016
Most works are undated, very few early works are signed "W Helmstedt"

The signature at the back of his works varied over the years and differed from the signature on the art works!
---
References
Invitation card Whippman's Gallery, September, 1960 - http://archive.cecilskotnes.com/items/show/2058
Invitation card 1954 Galerie Springer from the Zadik archives
The Star, Johannesburg - 17th May, 1956, p. 11 (illustrated)
The Star, Johannesburg - 17th October, 1957 ("His colour is alluring")
The Star, Johannesburg - mid-1961 - "Hitler banned his paintings" (illustrated)
The Star, Johannesburg – 25th April, 1962 - "Tour treasure" (illustrated)
Rand Daily Mail, Johannesburg – 4th May, 1962 - "A poetic German artist" by H.E. Winder
Dagbreek, Johannesburg – 6th May, 1962 - "Duitse Besoeker verras met S.A. landskappe"
The Star, Johannesburg – 7th May, 1962 - "Helmstedt's Africa" (mentioning: "this man from the flats of Friesland …")
Vaderland, Johannesburg – 7th May, 1962 - "Nuwe siening op landskappe" (poetic semi-abstract) by Dirk Meerkotter
Akademie der Künste Archiv, Berlin (Kl. 06.03 Künstler- und Mitgliedermappen – VBK 258)
"Important artists - Künstler des 20. Jahrhunderts" - http://www.list-of-important-artists.de/h.htm (Helmstedt, Wilhelm, Mitglied im Berufsverband Bildender Künstler Berlins 1946-1980, Germany)
Die Kunst und das schöne Heim - Vol 53, 1955 (Bruckmann, München) - ISSN:0023-5423
Artis 26 - Vol. 26, p.37 - 1974 (Neinhaus Verlag, Konstanz) - SABINET
"Verein Berliner Künstler, Versuch einer Bestandsaufnahme von 1841 bis Gegenwart" (Nicolai, Berlin) (1991), p.197 - Mitgliederverzeichnis - ISBN 3-87 584-381-9
BA Spandau / FB Kultur, Zitadelle, Berlin (first major input of c.v.)
---
Further References mentioning Wilhelm Helmstedt
Designed a book cover in 1931 - Antiquariat Juergen Laessig, Berlin - 2009 Liste 13, Kat. 4, Nr. 64:
64 Grisar, Erich: Bruder, die Sirenen die schreien. Gedichte für meine Klasse. Hirsau, Verlag Die Arche 1931. 8°. 60 S. Orangefarbener Pappband mit dunkelroter Schrift nach Entwurf von Wilhelm Helmstedt.
He is mentioned as "Young Wilhelm Helmstedt" in an undated newspaper article "Im Charlottenburger Schloss - Ausstellung Berliner Künstler"
See other references on these links: Buschkötter refs.: B.
Spandauer Zeitung Volksblatt - 8th May, 1951 (or 1952)
Amtliches Fernsprechbuch für den Bezirk der Landespostdirektion Berlin: Branchen-Fernsprechbuch: Kunstmaler - 1958-1959 to 1974-1975
Spandauer Zeitung Volksblatt - 26th February, 1961 ("Kunstbrücke Spandau-Kapstadt")
Spandauer Zeitung Volksblatt - 6th April 1967 ("Winter" illustrated)
Deutsches Bühnen-Jahrbuch, Vol. 80 - FA Günther & Sohn, 1972, listed on p227 on technical staff as "Theatermaler"
Deutsches Bühnen-Jahrbuch, 1972 (Herausg.: Genossenschaft Deutscher Bühnen-Angehörigen, Hamburg), p227
Spandauer Volksblatt - 11th January, 1974 (Erinnerungen und Stimmungen)
Wo Weltgeschichte sich manifestiert (Verlag Haus am Checkpoint Charlie) (1981), ref. under G. Schorsch - ISBN 392248400X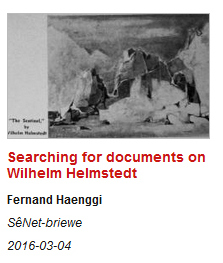 Appeal for documents on Litnet, South Africa - 2016
Facebook Appeal for more information on Wilhelm HELMSTEDT by courtesy Catharina Weinek - 7th March 2016:
https://www.facebook.com/catharina.weinek/posts/10154010537374740
---
Notes
Copies of articles and reviews listed afore are available on request, at no charge.
Unfortunately hardly any information has been kept by various institutions both in Germany and South Africa relating to pre-1959. Thus, if you have more information on the artist or images of his works, please contact us at "info at pelmama.org". Unfortunately, his signature is not easily recognisable unless one knows the artist's name!
Wilhelm Helmstedt who had shown at Galerie Springer in Berlin in 1954, one of the top galleries at the time presenting important international artists, left for South Africa in 1955 for personal reasons and thus missed out on becoming better known!
We thank the many people who have assisted us in assembling the above information, including the Helmstedt family.
---
Identification
If you own a work by Wilhelm HELMSTEDT, please send us confidentially a good image with usual details for identification and archival purposes - a gratis service!
Please contact "pelmama.thf@gmail.com" in English or German!
---
last updated 20th March, 2017