1928 - 1997
Paintings, graphics, drawings, sculptures, tapestries, stage designs
Works sold on auctions or otherwise
Selected works in private collections
Cyril Fradan in 1968
Cyril J. Fradan, born in Johannesburg 1928, son of Mr Mrs B. Bloch, Killarney, Johannesburg; attended King Edward VII School, Johannesburg; obtained BA Art History and English Literature, University of the Witwatersrand, Johannesburg; departed for extensive travels in Europe, 1951; studied at the Académie Julian, Paris, 1952/53; lectured in art history at the University of the Witwatersrand 1953/54; obtained Italian Government Scholarship for one year, 1954; studied at the Accademia, Rome and wood-engraving at the Accademia di S. Giacomo, Rome 1954/55; moved between Paris and Rome where he taught Art, Art History, Ancient History and Languages intermittently at the Overseas School of Rome, 1955/59/60. While in Rome, he lived at "2 Piazza dell'Oro".
Cyril Fradan and 6 young American artists living in Rome opened the "Appunto" Gallery at Via Gregoriana 46, Rome, on 9th May, 1959. Cyril Fradan managed it and had a solo show there during November 1959.
Cyril Fradan settled permanently in London in 1960, holding his first solo show of 20 paintings at the Woodstock Galleries, London, in May, 1961.
Click on Press photo (©) of Cyril Fradan showing at Woodstock Gallery, London, in 1961
To see a full list of exhibitions in Europe (London, Amsterdam, Copenhagen, Manchester, Petersfield, Plymouth, Bremen, York Festival, Geneva, Belfast, Nottingham, Rome) and South Africa including Gallery 101 in 1968 and Gallery 21 in 1983 go to this link: List of solo shows.
Taught History of Art at London College of Printing 1964/65 and the Guilford College of Art 1966/68; taught Sculpture at the Sir John Cass School of Arts, London 1972/73.
Retrospective Exhibition by Cyril Fradan held at the Pretoria Art Museum, Pretoria - March/April, 1976.
In 1979, Cyril Fradan presented for the first time and entirely on his own what was to become an annual Studio Exhibition and Music Recital Festival at his home/studio at 23 Lower Addison Gardens, London W14. The art works were all by Cyril Fradan, the musicians were all young and professionals. The 8th Annual Festival held in 1986 included 41 performers over 19 days, held under the Patronage of the Worshipful the Mayor of Kensington and Chelsea.
In November, 1986 (or 1988) Cyril Fradan moved from London to Bangkok where he died in 1997 after a series of recurring brain tumors (cancer). He could not paint any more during the last few years.
SA National Gallery, Cape Town - 2 works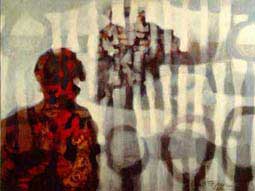 Oliewenhuis Art Museum, Bloemfontein - 2 works
Nelson Mandela Metropolitan Art Museum (King George VI Art Gallery), Port Elizabeth - 1 work

Pretoria Art Museum, Pretoria - 4 works
Pietersburg Art Museum, Polokwane - no images available
UNISA, Pretoria - 1 work
can be found in many of the following publications!
ARTLOOK 11 Johannesburg - October, 1967 p. 7, ill.
ARTLOOK Johannesburg - January, 1968 p. 11
Galerie Werkstatt, Bremen - June 1968 - invitation card
ARTLOOK Johannesburg - Feb/March 1976, ill.
Pretoria Art Museum, Pretoria - invitation card & exhibition catalogue March/April, 1976, ill.
Sunday Express, Johannesburg - 4th April, 1976, p.27, ill.
Habitat, Johannesburg - No. 20, 1976 - pp. 36/7, ill.
Lantern, Pretoria - Vol. XXVI No. 2 Dec. 1976 - Feb. 1977, pp. 26-35, ill.
The Times, London - 12th May, 1981 (review by John Russell Taylor)
Art & Artists of South Africa (Berman) (Balkema), 1983 ill. p. 157
Gallery 21, Johannesburg (Venice Observed 1980/83) - Oct./Nov. 1983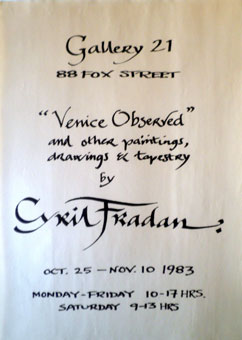 Fair Lady, Johannesburg - 20.2.1985, ill.
"Looking at South African Art" (Harmsen) (van Schaik), 1985 pp. 22/24; 266, 284, ill. 20
Cyril Fradan - 8th Annual Studio Exhibition, London, with music recitals - May/June, 1986 - Part I.
Cyril Fradan - 8th Annual Studio Exhibition, London, with music recitals - May/June, 1986 - Part II.
"The Dictionary of South African Painters and Sculptors including Namibia" (Ogilvie / Graff) (Everard Read), 1988 – ISBN 0 620 12663 9 – listed on p. 232/233
Note:
A number of slides are in the archives of The Haenggi Foundation Inc., Basel.
Works auctioned or sold otherwise
Old Johannesburg Warehouse Auctionners, Johannesburg - 27th August, 2016 - Lot A022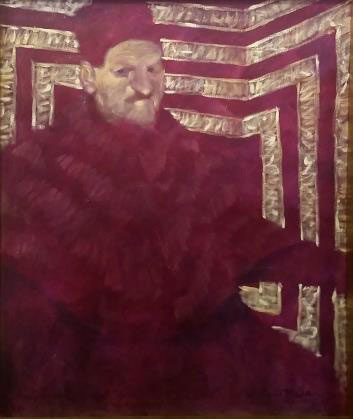 "Innocent X.", 1969 - oil/canvas - 91x72 cm - Lot A022
Rossini, Paris - 28th January, 2014 - Lot 397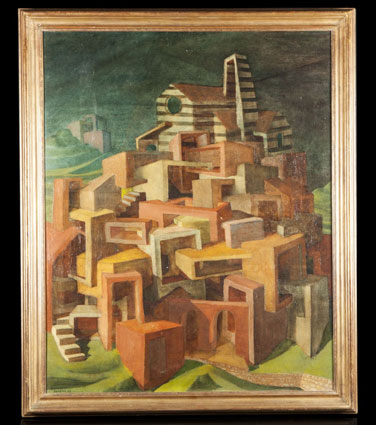 "Umbrian City", 1953 - oil/board - 92x73 cm - Lot 397
Valor Artis, Genève - 24th April, 2013 - Lot 259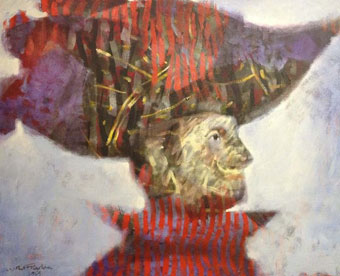 "Philippe IV.", 1969 - oil/canvas - 80x100 cm - Lot 259
The Bru Sale Gallery, Bruxelles - 16th December, 2012 - Lot 164, 165
Hôtel des Ventes, Genève - (Silent auction) - 28th September, 2010 - Lot 3924
Abbott & Holder, London - 11th September, 2010 - Lot 32
Bellmans Auctioneers, Billinghurst, UK - 21st April, 2010 - Lot 475
Cannon & Cannon, Pietermaritzburg - 29th June, 2010 - Lot 176
Liam's Art Gallery Pattaya, Jomtien-Pattaya, Thailand - 2010
Tooveys Auctioneers, West Sussex - 25th February, 2009 - Lot 120
Pieta Fine Arts, Brighton - online auction - February, 2009
Rosebery's Fine Arts Auctioneers, London - 7th May, 2008 - Lot 348
Abbott & Holder, London - 14th September, 2006
Hart Galleries, Houston TX - 10th June, 2006
at various times and other places per ArtPrice - 1995, 1998, 2001, 2002, 2004
Sotheby's/Welz Johannesburg - no works recorded between May, 2001 and December, 2012
Russell Kaplan Auctioneers, Johannesburg - 29th March, 2014 - Lot P35
www.pelmama.org - do an internal search for "Fradan"!
https://en.wikipedia.org/wiki/Cyril_Fradan
Selected works in private collections
Priv. Collection in Switzerland - per 2010
Priv. Collection in Thailand - per 2010
Priv. Collection in Pinetown - per 2010
Additional 19 selected paintings and sculptures in private collections
___________________________________________

Screen, 1972 - wood - signed - 1.8x1.8 cm - Priv. Collection in London - per 2015
If you have additional information or images on Cyril FRADAN, please let us know so that we can update this page!
The Retrospective Exhibition catalogue of Cyril Fradan's works shown at the Pretoria Art Museum, Pretoria in March/April, 1976, lists one work loaned by Mrs. Anna Fradan. Furthermore, from mail exchange in December, 2001, we understand that Cyril Fradan had a sister in the USA he last visited in Pennsylvania in 1979/1980 (mail from Cyril's nephew, Jonathan Ponter).
Additional information about Cyril Fradan's family would be appreciated!
___________________________________________
You need to have the free Adobe Reader to read the many PDF files!
last updated on 30th August, 2016