TESSA FLEISCHER
Jewellery and other creations in copper and silver
---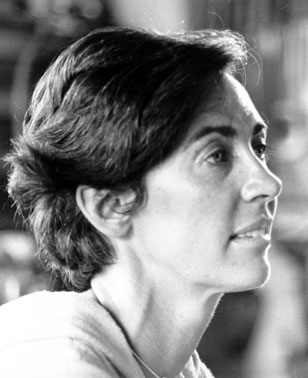 Tessa Fleischer abt. 1974
Brief C.V.
Born 18th May, 1934, née Tessa Marie-Louise Laubscher, first married to Bevil John Blythe Rudd (1954-1958); second marriage to Oliver Robyn Tetley in 1959 (children are Philip Tetley and Rebecca Tetley); third marriage to Michael Fleischer (1968), Mara is their daughter.
Tessa Laubscher was first a noted actress, acting in productions by Taubie Kushlick, Jamie Uys and others. After meeting and marrying Michael Fleischer, she gave up her acting career and started working under his guidance in metal. Years later, she attended for a month a silversmith workshop at the Summer Academy in Salzburg, Austria. She first worked in copper, later also in silver, concentrating on commissions for churches such as chalices, ciboriums and altar pieces.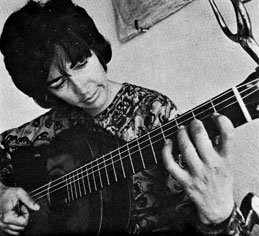 Tessa Fleischer also studied classical guitar music under Fritz Buss
Tessa's two sisters are Tjoekie Daneel and Tatu Penrith
Selected Exhibitions
1968 Gallery 101, Rand Central, Johannesburg (2nd December) (35 pieces), jointly with Michael Fleischer;
1972 SA Association of Arts, Pretoria (September), jointly with Michael Fleischer;
1974 Gallery 101, Johannesburg (17th July), jointly with Michael Fleischer;
1977 Gallery 21, Fox Street, Johannesburg (25th October);
1980 Mountain Gallery, Kalkheuvel (29th November), jointly with Michael Fleischer
International Exhibitions
Participated by invitation twice in Florence at the 38th International Arts & Crafts Fair, including the 38th held from 3rd April to 5th May, 1974.

One of Tessa's entries shown at the 38th International Arts & Crafts Fair, Florence, 1974 (images from SA Panorama Pretoria July 1974, p20) - click on it for a better view!
A selection of Commissions obtained
De Beers Consolidated Diamond Mines
Bishop Timothy Bavin, Johannesburg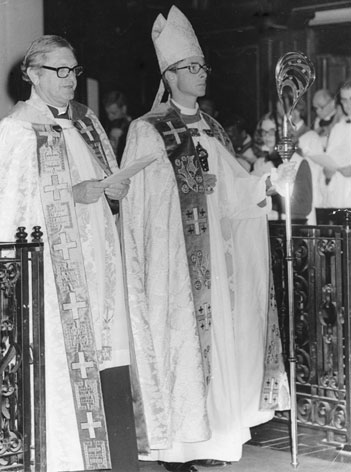 Commissions for various churches
Bishop Desmond Tutu, Johannesburg (crozier and pectoral cross)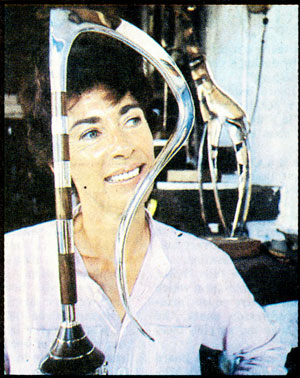 click on image for full article
Selected Images of Tessa Fleischer's jewellery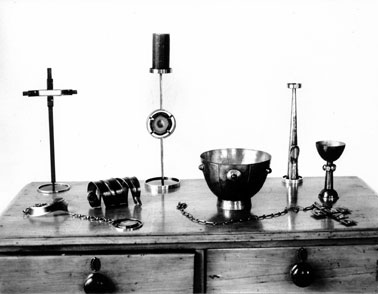 Other items in silver or copper
A further selection of items in silver or copper by Tessa Fleischer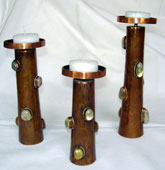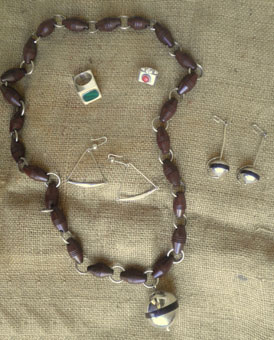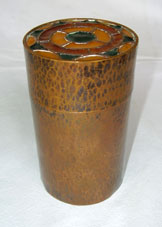 Items offered on auction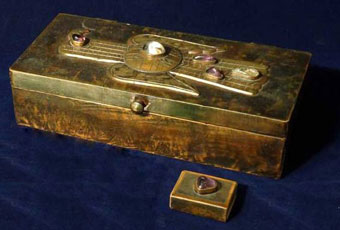 Tessa Fleischer copper cigarette box and matchbox on auction at 5th Avenue Auctioneers, Johannesburg - 25th March, 2012 - Lot 443, unmarked but authenticated
Signature Stamps
In the past, Tessa Fleischer appears to have signed her jewellery in copper and silver with different stamps - see this PDF - there may have been slight variations over the years.
Press
Unknown Afrikaans newspaper, Johannesburg ("Vir die Vrou") – 2nd December, 1968, ill.
ARTLOOK 29 Johannesburg – April 1969, p26, ill.
Sandton Chronicle, Sandton - September, 1972, pp.12/13, ill.
ARTLOOK 90 Johannesburg – May 1974, Vol. 7, No. 5, pp.28/29, ill.
Rand Daily Mail, Jolhannesburg – 19th July, 1974
The Star, Johannesburg – 22nd July, 1974
SA Panorama, Pretoria – July 1974, p. 20, ill.
Sunday Express, Johannesburg – 26th February, 1978
Style, Johannesburg – June 1983, pp. 90-97, ill.
The Star, Johannesburg – 1st February, 1985 (Local artist creates symbolic staff for Tutu's inauguration)
Citizen, Johannesburg – 28th March, 1987
Sunday Times Magazine Lifestyle, Johannesburg – 6th September, 1987, ill.
Transvaler, Johannesburg – 3rd January, 1989
SA Country Life, January 1996, pp.26-31, ill.
Other published references
"Just the Ticket – my 50 years in Show Business" by Percy Tucker (Jonathan Ball) (1997), pp 68, 79
Appeared on "Kunskafee" 26th January, 2003 (125) ("Kunskafee se gasvrou is die goudsmid Tessa Fleischer van die Broederstroom omgewing")
Living Arts
Co-organizer of annual "Living Arts Biennale" exhibitions held in Johannesburg since 1967, such as 1972 (Carlton Centre), 1976 (Rand Afrikaans University)
Tessa Laubscher: roles as an actress
Title role in Reps Theatre production of Colette's "Gigi" (1953);
Played as Rosalind in "As you like it" directed by Taubie Kushlick for Children's Theatre Open-Air production at Rhodes Park, Johannesburg (1953);
Played as Sally Bowles in "I am a camera" by Christopher Isherwood, produced by Ruth Oppenheim (1955)
Played in Jamie Uys' production of "Satanskoraal" (1959) (Mimosa Films)

click on image for more details!
Link to Michael Fleischer's website
You need to have the free Adobe Reader to read the various PDF files!
Updated 2nd November, 2012